Robert Clarence Epler, 95, of Reedy, passed away February 21, 2018.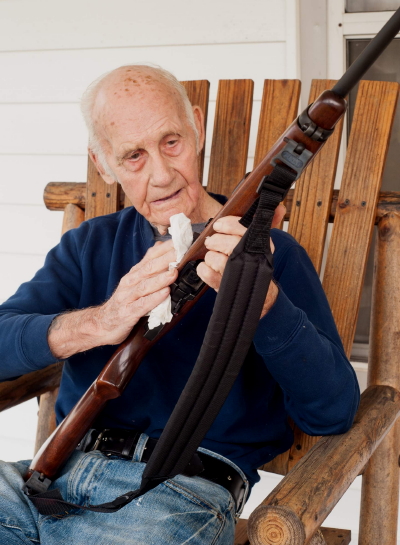 With another successful hunting season behind him, 93-year-old
Bob Epler can wipe a coat of oil onto his trusty squirrel rifle
and wait for the April 18 spring gobbler season opener. Despite
his age, Epler routinely hunts alone in the woods near his Roane
County home - Story and Photo by John McCoy for the Gazette-Mail
REEDY 2016 — Last fall, Bob Epler killed a buck and a bunch of squirrels.
No big deal, right? Lots of hunters do that well.
It's safe to say, however, that not many of them are 93 years old. Epler is, and he hunts enthusiastically from the squirrel-season opener in early September to the close of the rabbit season in late February.
"I've always loved to get out and just walk in the woods," said Epler, a Wirt County native who now lives in the little Roane County town of Reedy. "I went along on hunting trips even before I was old enough to carry a gun."
So, for more than eight decades, Epler has prowled the woods of west-central West Virginia in search of game. His contemporaries have slowed down and died off, but he keeps going, making precious few concessions to his advanced age.
"I coon hunted well up into my 80s," he said. "I only quit when I lost my dog."
Chasing hounds through the woods at night isn't the safest thing in the world for an 80-something hunter to do, but Epler said he's never suffered a hunting-related injury.
"The only time I ever hurt myself was when I was watching a football game on TV," he recalled. "I went out into the backyard to stretch a little bit and ended up breaking my ankle. Image that; after running these hills for all those years, I get hurt in my own backyard."
He sometimes hunts with his son, Robert Jr., and with friends. But unlike most 93-year-olds, he often hunts by himself.
"Some friends and I have a 975-acre hunting lease in Wirt County," he said. "When I feel like hunting, I drive up there, park the car, put my gun on my shoulder and walk wherever I need to go."
Epler "feels like hunting" more often than many men a fraction of his age.
"During turkey or deer season, I go every day if I haven't gotten anything," he said.
The squirrel and rabbit seasons are much longer, so Epler doesn't feel the same pressure to hunt every day. If he doesn't feel like getting out of bed, he just stays there.
This past hunting season, he got up often enough to kill what he called "a fair number" of squirrels. He acknowledged that he probably would have killed more if he'd used a shotgun instead of a .22-caliber rifle, but he enjoyed the added challenge.
"I used to hunt them with a shotgun, but it's a lot more fun with a .22," he said. "I might not get as many that way, but I get what I need. I eat what I shoot. I won't shoot at anything I'm not going to use."
During the deer season, Epler killed what he called "a small buck," but missed a chance at a larger one.
"I should have gotten that one, too, but I got a little too excited and didn't make a good shot," he explained.
The only other disappointment he suffered during the 2015-16 season was his poor success at rabbit hunting.
"I didn't do worth a hoot on rabbits," he said. "There are too many bobcats and coyotes on the land I hunt, and it's hard for a rabbit to make a living there."
Hunting rabbits gives him an excuse to head afield with his beagle, Ladybug, who showed up on his doorstep as a stray a few years ago and decided to stay.
"She turned out to be a pretty good rabbit dog," he said.
When West Virginia's spring turkey season opens on April 18, Epler will try to duplicate the success he had last year when he bagged a 20-pound gobbler. He admits it might take some luck.
"I don't call when I hunt turkeys," he explained. "I just go to a place that I know has a lot of turkeys and hope that one happens to wander by."
The only concession Epler makes to his advanced age is that he tries to hunt on gentler terrain.
"When I hunt by myself, I try to hunt on 'good ground' — in other words, fairly level," he said. "I can't climb hills like I used to." He's out there, though, every chance he gets. Not bad for a 93-year-old.
Roane County man still enjoys hunting at age 93   By John McCoy for the Gazette-Mail