By James C. Haught

My father Horace L. Haught told me as a child that one should never let the hills and hollows of Calhoun County hem me in. He used as his example a man who lived on Pine Creek, Max Ward.

Max not only got a high school diploma, but he went on to college where he earned bachelor's degree. Next, he would go to Harvard University where he earned a master's and doctor's degree in science. My dad's generation had Ward as its hero whose vision went beyond the hills of home.

My generation also had such a man.

I met Joseph Neill Riddel in 1949 at my cousin, Margaret Starcher's home on Mt. Zion Ridge. We both played football. Joe was a fullback for the Calhoun Red Devils. The son of James F. and Thelma Stump Riddel. Joe was born in September 1931.

Joe continued playing sports (football, basketball and baseball) as a student at Glenville State College. But he excelled in the classroom. He graduated in three years with a degree in both English and Physical Education. After college he served two years in the Army.
Joseph N. Riddel, Glenville State College 1953
Joe used his GI Bill to earn a master's and then doctorate degree from the University of Wisconsin.
With a Ph D. in hand, Joe returned to Calhoun County where he married Virginia Lee Johnson in April 1957. Virginia was the daughter of Glenn and Thelma Johnson of Grantsville. She had also graduated from Glenville State College. Joe and Virginia are the parents of three children, Kevin, Valerie Ann and Vanessa Lee.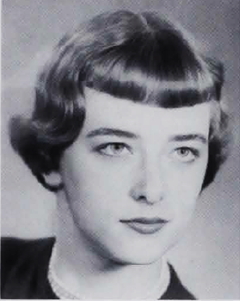 Virginia Lee Johnson, Glenville State College 1955
Joe's first teaching job was as an associate professor of English at Duke University. He would later transfer to the State University of New York at Buffalo.
However, it was as the founder and director of the Center for Critical Studies and Human Science at UCLA that Joe became well known for his work. He authored several books including: The Clairvoyant Eye, The Poetry and Poetics of Wallace Stevens, and The Inverted Bell. He also authored numerous scholarly papers.
Joe remained active in sports mainly by playing golf and tennis. He was also a jazz enthusiast.
In September 1991, Joe died from pulmonary complications. He was just 60 years old. Virginia Lee, his wife, continues to live in Los Angeles. I can remember Glendon McKee saying, "My world encompasses all that I can see."
Joseph Neill Riddel's vision encompassed the entire English speaking world. Joe proved the hills and hollows of Calhoun County are stepping stones to a brilliant future.