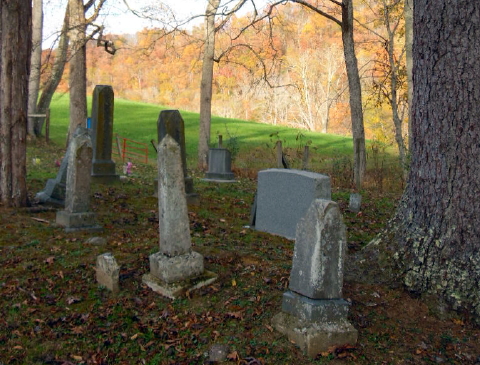 Enon Cemetery, named for a biblical location,
rests above Little Kanawha River, Russett Road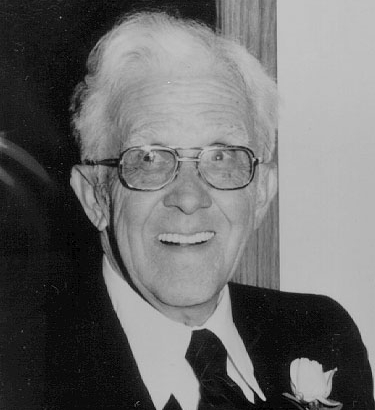 Rev. Harold Huffman (1908-1983), longtime
pastor of Enon Baptist Church, and wife
Velma Riggs Huffman, repose in cemetery
The Enon Cemetery, resting above the Little Kanawha River near Russett Road, a short distance from the Enon Baptist Church which was established in 1895, is a resting place for some of the early community builders.
A number of the pastors of the Enon church are buried there.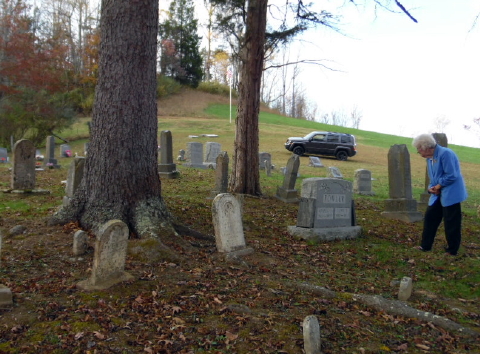 Russett resident Jackie Robinson visits
graves and recalls former residents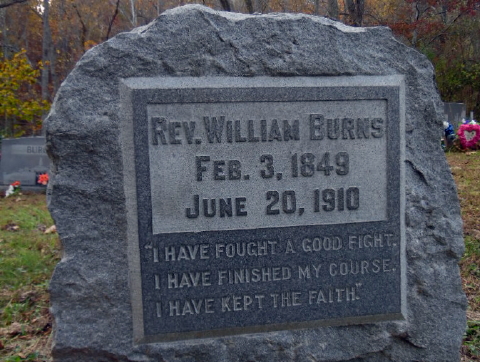 The founder of the Enon Baptist Church, Rev. William
Burns and wife Florinda Stump repose in cemetery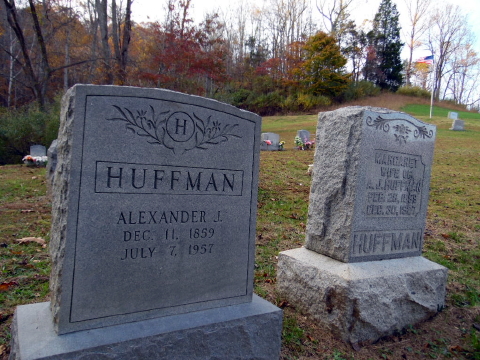 Alexander J. Huffman and wife Margaret among several
generations that lived across Little Kanawha in homestead
Among the earliest settlers was Rev. Squire Alexander Huffman, who born in Virginia and moved to Calhoun. He married Hannah Vannoy, and organized the first church services at Bethlehem in 1810.
His son, Absalom and his family are buried in the cemetery.
The Huffman homestead, where several generations lived, is still standing across the Little Kanawha River.
Other community names include Marshall, Fowler, Johnson, Smith, Burch, and Stump.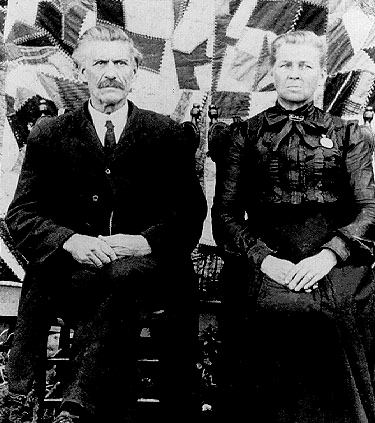 Rev. Wlliam (1849-1910) and Florinda Stump Burns, early Baptist minister and founder of Enon Baptist Church, the son of Rev. Hugh and Eliza Collins Burns of Elana, Roane County and Clay County, Kentucky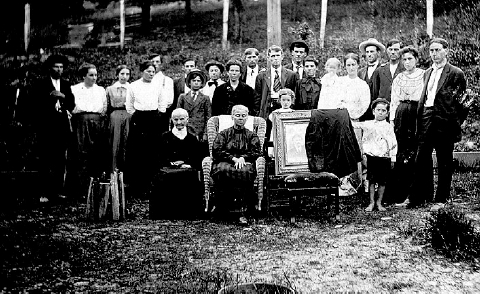 Rev. William and Florinda Stump Burns Family following 1910 funeral of Burns at Enon - Front (left to right) Aunt "Polly" Johnson, Florinda Stump Burns, Picture of Rev. Billy Burns, Glen Weaver; Back: Scott Burns, Della Burns, either a Johnson or Stewart girl, Stella Burns, Everett Burns, Harper Burns, Arlan Burns (in front of Harper), Minnie Burns, Jennie Burns, Charlie Burch, Claud Osborn, Dell Burns, Rose Burns Moore, Elma Burns (baby), Rachel Gherke Burns, Calvin Burns, John Burns, Emma Burns, Frank Weaver