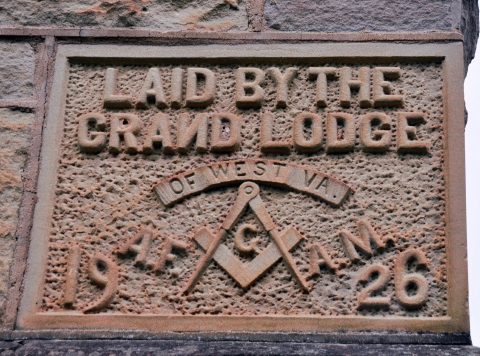 Grantsville Grade School Cornerstone With Backward "N"
(Photo courtesy of Dan Kemper)
The cornerstone of the Grantsville Grade School was placed in 1926, but the stone cutter was a little dyslexic inserting a backward "N."
There are at least three other cornerstones with historic deposits in Grantsville, the old Calhoun County High School (1921), the Masonic Building on Main Street (1921) and the Calhoun Courthouse (1942).
Presumably, the cornerstones would be opened with their 100th anniversary. Unfortunately, a previous owner of the old grade school opened the cornerstone and removed the contents.
Later, the school was razed and is now the site of a new Calhoun Bank.
ARTICLE: GRANTSVILLE GRADE SCHOOL CORNERSTONE CEREMONY (1926)
The corner stone of the new grade school building on High street was laid Friday afternoon of last week by the West Virginia Grand Lodge of Masons. A.G. Mathews, on behalf of the local board of education, invited the Masonic fraternity to participate in the ceremonies in a brief but fitting address. The Lodge then carried on with the beautiful ritual of the order. Music for the occasion was furnished by a special choir of the town's best singers and a brass band hurriedly recruited by Director Arlan G. Burns. In the receptacle in the corner stone were placed a number of articles as follows: Penny, by Dr. J. Lawrence Taylor; Dime, Mrs. Mollie Poling; Roster Local Board of Education, Miss Lenna Proudfoot; Roster High School Faculty, Marvin Cooper; Liberty Loan Medal, Mrs. Edna Stump; Dime, C.E. Garretson; Masonic Coin, Dr. Ray C. Morford; Penny, Mrs. Aletha Morford; Penny, Miss Pearl McCormick; Copy of The Calhoun Chronicle, July 8, 1926, R.L. Hamilton; Copy of Grantsville News, July 9, 1926, L.W. Stalnaker,; Photo of Bank of Grantsville, C.A. Jarvis; Bank Book, Calhoun County Bank, Gay Stalnaker; Savings Passbook, Calhoun County Bank, F.F. McCoy; Five Cent Coin, Watt W. Stump; Photo of Children, Roche C. Hall; Coin, L. John Fogle; Key to Masonic Building, Foster Johnson; Buffalo Nickel, Hagan T. Francis; Lincoln Penny, Coda A. Morrison; Coin, Erra Stump; Photograph, L.L. Ball; Photograph, Jack Hamilton; Photograph, Lorentz C. Hamilton; Victory Loan Medal, Jerome A. Francis; Coin, Lyle S. Ayers; Pencil, Clarence O. Bower; Masonic Text Book, William J. Ayers; New Testament, Homer V. Jackson, Asa Maze, L.J. Morris, T.C. Cain and Dyer Waldo; Photograph, Miss Nettie Stump; Clippings, Mrs. Albert Stump.