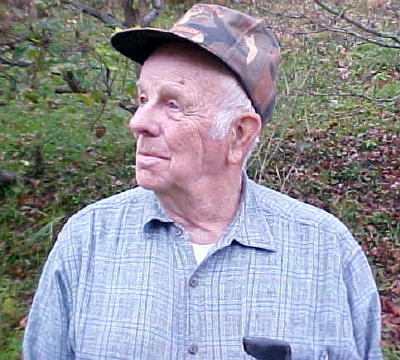 2015
Eighty-eight-year-old Minnora resident Winfield Scott Bailey has passed.
Staff Sgt. Bailey served in World War II, returning home to marry his childhood sweetheart Edith Gae Hoover, their marriage lasting 68 years.
Bailey, who worked for Monarch Rubber for 32 years, was at heart a farmer, for many years farming his 256 acre farm on Sears Run with draft horses.
An avid gardener, he enjoyed being in the woods, hunting, bee keeping, ginseng hunting, mushroom hunting and especially staying at his cabin "Windy Knob."
He loved reminiscing about the old days and visiting with his friends and neighbors on his front porch, and especially his grandchildren and great-grandchildren.
A craftsman, he enjoyed working with wood and weaving white oak baskets, carving wooden bowls, spoons and paddles. He loved passing his knowledge onto others.
Burial was in the Minnora Cemetery.
See complete obituary Winfield Scott Bailey
Also HONORING WINFIELD SCOTT BAILEY - Calhoun's Democrat Of The Year