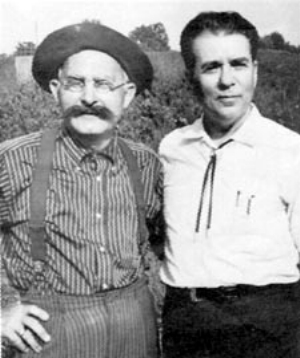 Grandpa Jones and Buddy Starcher
County music entertainer Buddy Starcher was well-known to Calhoun and regional county residents, frequently appearing a small venues such as the Mt. Zion Drive-in, the Orma Theater and the Log Cabin Park.
Oby Edgar "Buddy" Starcher (1906-2001) of Ripley was from the "thicker than broomsedge" Starchers, who have widely populated the region since Phillip Starcher planted his roots in Calhoun about 1810, and his brother Jacob was the founding father of Ripley, Jackson County.
Many local musicians played with Starcher over the years, he being a musical vagabond.
Starcher first played on radio at WFBR Baltimore, MD, in 1928. He worked at WCHS Radio in Charleston three different times, for two or three years at each stint, and also at WMMN Fairmont, at WPDX Clarksburg, and at WSVA in Harrisonburg, VA.
His radio work also included notable stays at KMA Shenandoah, IA; WCAU Philadelphia; and Miami, FL. Compared with other artists, he recorded rather sparingly but still had more than 100 songs on disc beginning with 14 sides on 4 Star in 1946 which yielded his first national hit and best known composition, "I'll Still Write Your Name in the Sand."
In 1949, he moved on to Columbia where he did 10 numbers over a three-year period. He recorded for DeLuxe in 1954, and many numbers for Starday including the 1962 LP "Buddy Starcher and His Mountain Guitar."
From 1960 until 1966, Starcher had a popular morning TV show at WCHS-TV Charleston. With a cast that included some of the area's best musicians.
"The Buddy Starcher Show" had higher ratings than the "Today show" on NBC and is fondly remembered throughout much of the Mountain State and portions of Ohio.
Some of his songs were thoughtful or comedic recitations including "History Repeats Itself" - which was covered by Cab Calloway - and "A Taxpayer's Letter."
He has been inducted into WV's Music Hall of Fame.