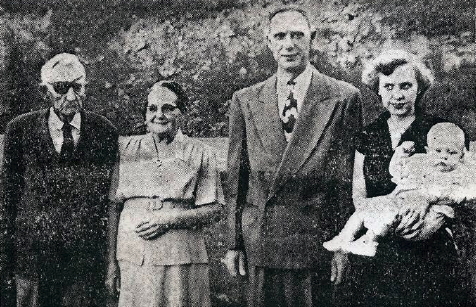 Staff Photo for The News by Doe Mitchell - FIVE GENERATIONS are shown above. Left to right are Guy C. Gainer, 97, of Henrietta. Calhoun county, his daughter, Mrs. Stella Rafferty, of Parkersburg and Akron, Dale Rafferty, formerly of Gilmer county, presently an Akron resident, his daughter, Mrs. Ramona Bingman of Akron, and her infant daughter
The 1953 article - An informal "reunion" at a residence in Gilmer county recently saw five generations get together. The oldest person present was 97 year-old Guy C. Gainer of Henrietta in Calhoun County. Despite his age, he is still active and although retired from his occupations of farming and timbering, he still looks forward to the opening of the fishing season.
Mr. Gainer was born along the Little Kanawha River, and that stream has furnished him untold pleasure in pursuing his favorite sport fishing.
Present at the informal get-to-gether at the home of Miss Leatha R. Westfall was one of Mr. Gainer's daughters, Mrs. Stella Rafterty, who for many years served as 'postmaster at Withers, in Gilmer county.
Also among those present and representing the five generations, was Dale Rafferty of Akron, Ohio, and Mrs. Rafferty, along with their eldest daughter, Mrs. Vandall Bingman and her young daughter, Dianna Lynn. Mrs. Stella Rafferty is the mother of Victor Rafferty of 601 Olive St. Since her retirement as postmaster, she spends part of her time visiting relatives in Parkersburg, and at other times visits relatives and friends in Akron.