By Dan Cosgrove
Calhoun Middle-High School
Social Studies Teacher

2013

This past weekend I had the chance to visit Valley Forge in Pennsylvania, the wintering over encampment of George Washington and his troops. I think it was an appropriate way to celebrate the Fourth of July holiday.

The Declaration of Independence is a special document, and the men who signed it were just as special. It took courage to sign it, since they were actually committing treason to the Crown, punishable by death.

All of our Founding Fathers should be commended and praised for what they did. However, signing the Declaration would not mean much, if they couldn't back it up with force.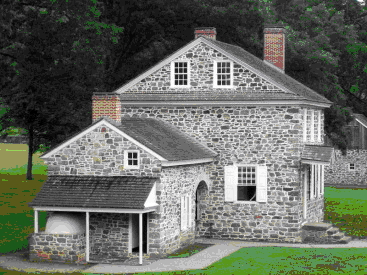 Washington's Headquarters
This task was given to George Washington and the Continental Army. I have to admit, I was doing some hero worshiping as I toured Washington's Headquarters. The house is mostly the same as it was back in 1777, when the Continental Army was encamped at Valley Forge.
The Ranger on duty mentioned the handrail that went upstairs was the one Washington held when he went up and down the stairs. Wow, I was actually using the same handrail.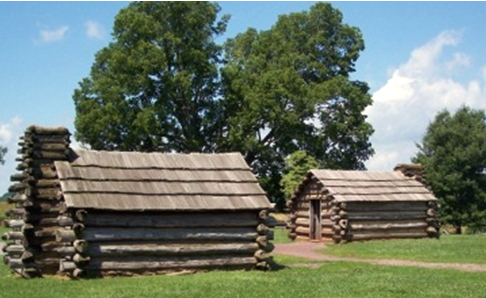 Enlisted troops cabins
As I continued on the 10 plus mile tour of Valley Forge, I started visiting the small log cabins the troops stayed in, not the generals or officers, but the enlisted men. These small, one room cabins held 6 men, with bunk beds, each with 3 racks. I found one cabin that held 12 men. I remembered hearing about Valley Forge in elementary school many years ago and the hardship they faced during that harsh winter.
Although I got to wander the grounds on a beautiful summer day, I could easily visualize soldiers fighting the snow and mud in poor clothing, having to go further and further to find firewood, and all the time fighting their inner demons as they saw comrades dying of numerous diseases. History books give credit to Washington for motivating the troops. However, seeing how far all the encampments were from Washington's HQ, I don't think Washington visited all the camps very often.
These soldiers had to find their own motivation. It is one thing to defend our country today, knowing how strong we are, knowing our Constitution has stood the test of time, but this was a fledgling country, experimenting with something called a democracy. This had not been tried on this scale in human history. Yes, there were small city-states, like Athens or Rome, but not a country, not different cultures or states. To put your life in danger for something people didn't know would work, took faith and it took the privates and corporals, the enlisted corps, to make it work-- Just as it does today.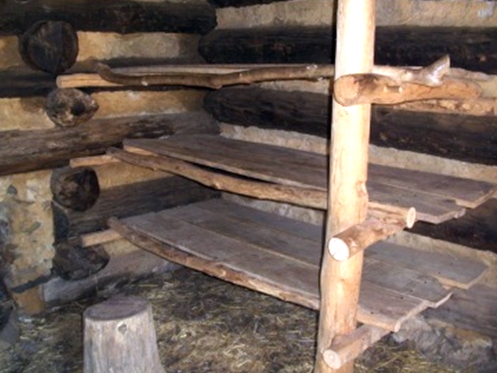 Enlisted troops bunks
As I looked closer at the bunk beds, they actually reminded me of the bunks on many Navy ships today. Our troops around the world continue in the spirit of Valley Forge, and they continue to sacrifice. They may be fighting sand or snow, or facing loneliness away from families. The enlisted force is the backbone of the military. We may never learn their names. They may be cooking, chipping paint, doing a FOD walk down on an aircraft carrier, or standing guard around the world. They are "on watch," on watch for us and our freedom -- our independence.
As I was looking at the many names on the rolls that served at Valley Forge, I randomly picked one, Private John Phillips of the 12th Virginia. One of thousands of men who fought for the Declarations of Independence, to ensure our country would persevere. So before you throw the burgers on the grill, or fire off some firecrackers or head to watch the fireworks, give a thought for Private Phillips and all the men and women then and today, the sailors, soldiers, airmen, and marines who continues to maintain our independence and freedom. They are on watch!
Washington's Prayer written at the close of the Revolutionary War for the United States of America:
"Almighty God: We make our earnest prayer that thou wilt keep the United States in Thy holy protection; that Thou wilt incline the hearts of the citizens to cultivate a spirit of subordination and obedience to government; and entertain a brotherly affection and love for one another and for their fellow citizens of the United States at large, and particularly for their brethren who have served in the Field; And finally that Thou wilt most graciously, be pleased to dispose us all to do justice, to love mercy, and to demean ourselves with that charity, humility, and pacific temper of mind which were the characteristics of the Divine Author of our blessed religion, and without a humble imitation of whose example in these things we can never hope to be a happy nation. Grant our supplication, we beseech Thee, through Jesus Christ our Lord. Amen."
Have a great 4th of July!