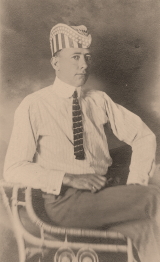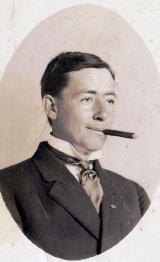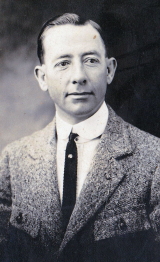 Ethyl Sharp - Schemes Of Questionable Nature
By Bob Weaver
He was a legend in his time as a Lothario, boozer and con-man, marrying at least five women, most them having considerable means.
Ethyl Charles Sharp sprung from a Nicut family that are among Calhoun's earliest settlers, most them hard-working and respected citizens.
Born in a family of ten children in 1889, he was the son of Robert (1862-1946) and Cordelia Ellen Burns Sharp (1869-1945).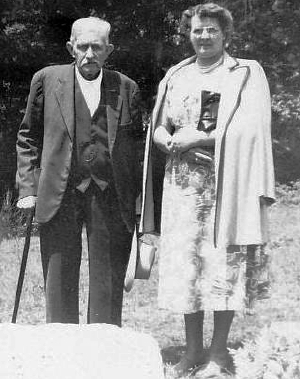 Robert, Ethyl's father and his sister Clara Sharp Hall of Nicut
Sharp family at Nicut homestead, circa 1920s
Ethyl lived a conflicted life, while intelligent and talented, he often embarked on schemes of a questionable nature. He carried a "Dapper Dan" persona to being a sloven but fanatic fisherman.
Most of his acquaintances said he was always looking for an easier, softer way.
Ethyl was born in 1889, leaving his Nicut family to become educated at a Baptist church school, the Oneida Institute in Clay County, Kentucky, an institution created about 1900 by his mother's relative, the Rev. Anderson Burns.
Rev. Anderson Burns, famously known as "Burns of the Mountains," was a brother to Roane-Calhoun minister Rev. William Burns, the founder of a dozen or more churches in Calhoun and the central West Virginia region.
Ethyl lived much of his adult life in Savannah, Georgia, but returned to West Virginia in his older years.
He often dressed to the hilt in silk suits wearing a bow tie and gloves, while working for a number of companies peddling their goods.
About 1930 he acquired a custom-built bus called the "Blue Moon," symbolic of old-time medicine show transportation, peddling spirits for Mogen-David Wines and Bach Candy, while selling insurance.
Later he formed the Federal Detective Agency in Savannah and repossessed cars and equipment. A few Calhouners will remember him driving around the county with the logo on his car.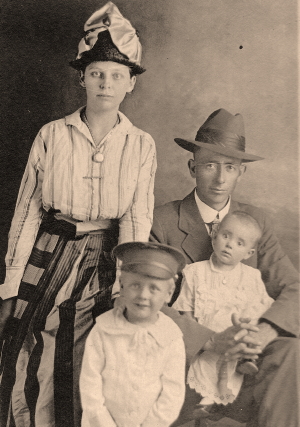 Sharp with first wife Vera Campbell and their children, photo 1920s
Family members said during his lifetime he studied books about how to be a good lover, first marrying Vera Campbell of Nicut of the Civil War Campbell family: SHE CARRIED IN SADDLE A TINY NEGRO GIRL' - Calhoun Family Rescues Orphan Girl From Civil War Battlefield, Nicut House Holds Many Memories(03/19/2013).
At the end of his marrying life, he married a grand Calhoun lady who spent most of her life in Spencer, Lelah Hardman Vandale, daughter of Allie and Narcissus Barr Hardman, she being an heir to their large holdings.
Ethyl, being discouraged by the lack of his wife's financial support, secretly took a few loads of Hardman cattle to the livestock sale to imbue himself with some cash. Records indicate he was never charged for the incident, but the marriage ended in divorce.
A family member recalled an image of Ethyl deer hunting along Nicut road on a rainy day, holding an umbrella over his head, after he attempted to "shake down" family members for the cost of his brother's casket.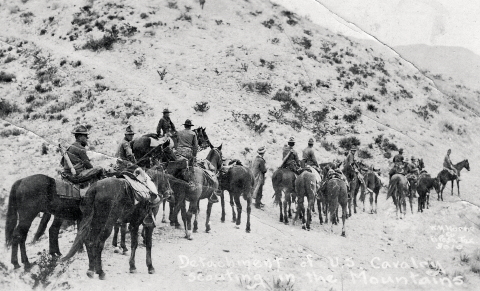 Photo sent by Ethyl's brother Clyde Sharp from
US Calvary, Ft. Bliss, Texas to his Nicut family
Ethyl's brother Norville established the Sharps Clinics as a chiropractor, including a branch located in Roane County.
Brother Clyde Sharp served as a combatant in US Calvary military actions in the southwest in the early 1900s, and went on to work for Western Union for 40 years, while yet another brother was a respected Clarksburg clergyman.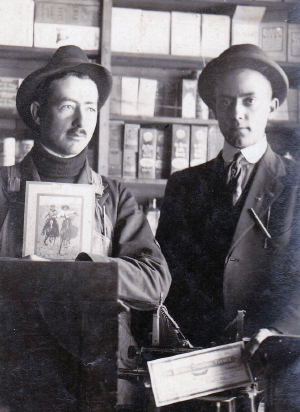 Ethyl (right) with brother Norville in Robert Sharp Store at Gip WV (1920s), purchased by Vance Hall in 1937

Ethyl lived to a ripe old age, passing in the 1970s and donating his body to West Virginia University for medical science.