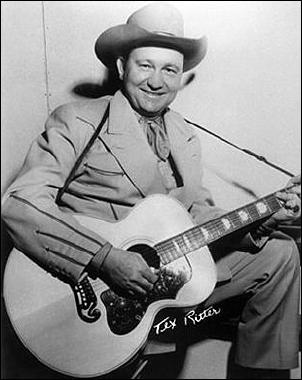 "I do not know what fate awaits me
I only know I must be brave
For I must face a man who hates me
Or die a coward, a craven coward
Or die a coward in my grave." - High Noon
"Oh, the wayward wind is a restless wind
A restless wind that yearns to wander
And I was born the next of kin
The next of kin to the wayward wind." - Wayward Wind
By Bob Weaver
Years ago I wrote in a ledger that I got drunk with country music and cowboy movie star Tex Ritter at Clay's Golden Delicious Apple Festival in 1973, slugging down some beer and sippin' from a jug.
I was working as a mortician for Carl Wilson Funeral Home when Tex was brought to Clay to be the Parade Marshal for the very first Golden Delicious Festival, where the "world's largest apple pie" was baked.
More recently I was questioned regarding my note about drinking with Tex, my friends certainly validating that I got drunk, but not too clear that Tex did too.
It was gettin' drunk out back of the ole funeral home, along the banks of the Mighty Elk. Sounds like a line for a country drinkin' song.
They even criticized my claim about getting drunk with Tex, as if that would bring some status to my drinking career.
Tex was a real gentleman, willing to talk about our favorite old-time cowboy movie stars, and my personal appreciation for his down-to-earth renditions of songs that put him on the charts.
Rita Hayworth appeared with him in her first movie role in 1937.
A few months after spinning tales with Tex along the Elk, he died of a heart attack in 1974 at age 68.
A little later, I got sober with the help of a lot of people, not a day too soon, and changed paths by starting and administrating drug and alcohol treatment centers for about 25 years.
Tex starred in 85 cowboy movies and recorded some of country musics most memorable songs.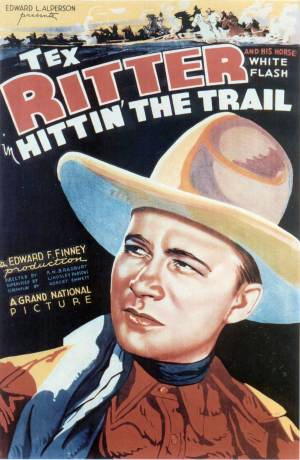 Some of his hits include "Rye Whiskey" (1931), "Boll Weevil" (1945), "Wayward Wind," "Hillbilly Heaven," "You Are My Sunshine" (1946), and "High Noon" (1952). He was inducted into the Country Music Hall of Fame.
Perhaps he is remembered for the theme song of one of the best western movies ever made "High Noon," but my favorite was his version of "The Wayward Wind."
Today's generation will recall Tex's son John Ritter, his TV comedy career and untimely death.