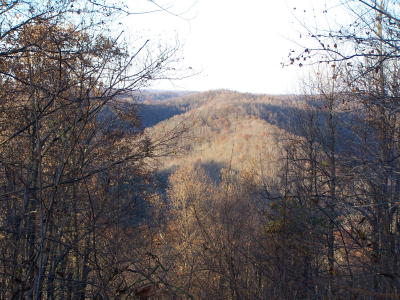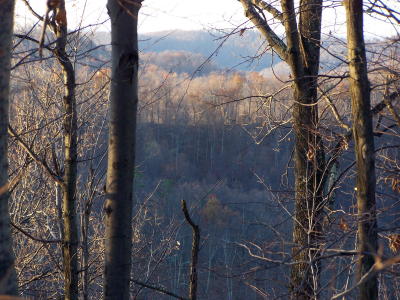 The view of the Calhoun hills from the top
of Desert Knob is obstructed by thick woods
By Bob Weaver
The existence of Desert Knob, one of the county's higher peaks, is unknown to most Calhouners.
The peak stands 1,312 feet above sea level, or 256 feet below Mule Knob, the county's highest.
Wendell McKown, whose family owns much of the land around the peak, says he has no idea how the knob got its' unusual name.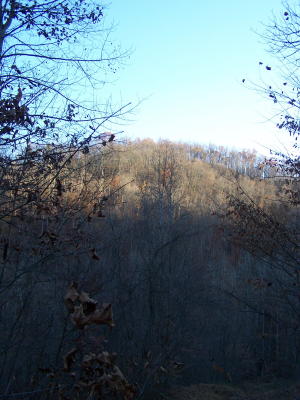 Desert Knob, a Calhoun peak
Situated in a remote area between Beech Road and Roane County, a primitive road, likely built by Union Carbide years ago, travels a considerable distance before reaching the peak.
The peak was once used for a radio tower by Carbide.
Today, the woods have tightened around the knob, preventing much of a view of the distant landscape.
The area, not unlike most hilltops in Calhoun, has weathered rock formations, worn by thousands of years of wind and weather.
McKown has found signs that native Americans once visited the hilltop.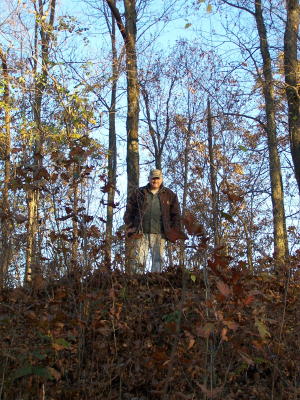 Beech resident Wendell McKown stands on the very top of the knob
THE WEATHERED MOUNTAIN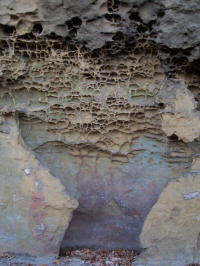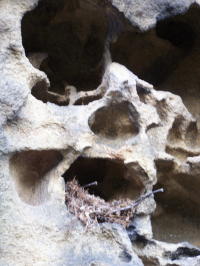 Fires have been built in rock depression by earlier
visitors (left) a small bird's nest rests in hole