Seward Lynch of Creston was sipping a soda at his favorite drug store in Parkersburg when he heard the news about the dirigible Shenandoah crashing in Noble County, Ohio about 30 miles away.
It happened in September, over 90 years ago.
Lynch was living with his aunt in Vienna and working at a nearby plant when his photographer friend Orville Huffman suggested they get in a Model-T Ford and take pictures of the disaster. It was September 3, 1925.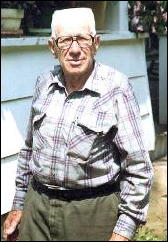 Lynch (pictured left) a great story teller, may best be known to Hur Herald readers for his generous contributions of Little Kanawha River pictures to the historic collection of Norma Knotts Shaffer, many of which are posted under Photos of the Day.
Fourteen of the 43 person crew died in the tragic crash of the first U. S. built, rigid dirigible. The Shenandoah was beginning a tour of 40 cities and five state fairs, when it encountered a severe storm.
The captain of the ship attempted to get away from the wind shears for two hours, as it was being twisted and bounced up and down by crosswinds. Reports said the ship was lifted to 6000 feet to be suddenly pulled down to 1200 feet. Part of the ship broke away, falling into a garden and leaving crewmen dangling from the free-floating balloon, struggling for life.
"I got off work at 4 p.m., cleaned up and went over to the drugstore to hang out. The place was buzzing with the news about the crash," said Lynch. "I remember driving through the little town of Ava, Ohio, turning off a dirt road for two or three miles to the crash site."
Lynch recalls "The National Guard boys were trying to keep souvenir hunters away when we got there."
"I saw a house that the dirigible knocked down part of the chimney and a pear tree in the yard had lost its limbs. There was wreckage all over the place. A person told us about a crewman dropping a rope and asking it to be tied down, for an escape. They tied it up to a tree stump, but it wouldn't hold and they found a bigger tree."
Lynch's photographer friend began taking pictures, taking them back to Parkersburg to be processed in his home darkroom.
Today, thousands of travelers pass the site along Interstate 77, marked by an American flag.
A decades old bumper sticker declares "I saw the wrecked Shenandoah," at a small museum operated by Bryan Rayner, in whose pasture field the ship fell near Ava and Caldwell, Ohio. Sometime there is a small ceremony at the museum.
Lynch, who has carefully etched his life experiences, recalled the event like it happened yesterday. He said you must remember the pilots of these airships were much like the astronauts of today. "It was a big event when this giant ship fell to the earth in a pasture field," he said.
Editors Note: Seward Lynch passed in 2003 at he age of 96
Teresa Stutler Starcher contributed to this story, originally published in 2000.