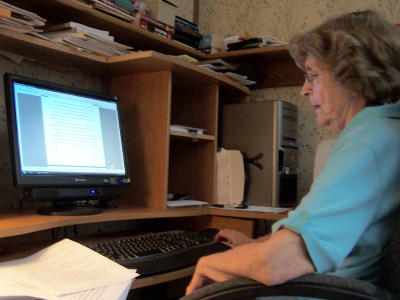 WILSON AT WORK - "Fill your paper with the
breathings of your heart." (William Wordsworth)
By Bob Weaver 9/2016
Jeanne Wilson, 91, Calhoun's prolific, award-winning and published writer, has passed.
An educator and writer, she started her career at a one-room school in Nicholas County, her favorite employment was as a principal in Lewis County and she gave thousands of hours to scouting, 4-H and various church programs and as a foster parent.
She enjoyed creating poetry and prose from her Appalachian mountain top home on Riffle Run, and was instrumental in keeping the Calhoun-Gilmer Writers Group going for years with gracious hospitality and encouragement, even holding writer's retreats at her camp.
In 2009, at age 83, rather than slowing down, she had sped-up, turning out fiction novels, short stories and poetry.
She has written about 80 poems and dozens and dozens of short stories, in addition to her novels.
Her poem, "Do the Dead Listen" tied for second place with a poem by Llewellyn McKernan of Charleston.
"Consequences," a short story, placed second in adult fiction.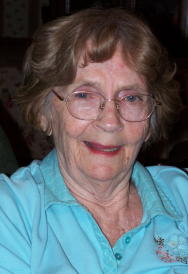 Wilson (shown left) is wrapping-up three works, "Strange Summer," a children's novel, "Owl Hollow Winter," an adult fiction novel set in the 1930's, and "The Crow Flies Backward," a humorous adventure novel.
The prolific writer said, "I used to think I needed a reason to write, then I discovered I could write because I want to."
Wilson, who has received many awards for her efforts, said "I'm really getting my writing in order for publishing," saying one of her rewards is enjoying the effort to improve her work.
"It was a great experience to be part of the Calhoun Writer's group" said Wilson, who was instrumental in starting the project a number of years ago, although it has now been discontinued.
The group often met once a month, having an annual retreat at Wilson's camp along Middle Fork River.
"Reading has always brought me great joy, to be carried by a group of words down a path where you feel like you're really there. It is such a wonderful experience," she said.
"To try and write in a manner that lifts the reader, if only for a short time, or in some cases to really make a difference in their life, is a great challenge."
Wilson said it is sad to think about people who do not enjoy reading, in addition to the education it brings.
"Writer's are fascinated with the people they meet, and want to share those people through their writing."
She concluded by saying, "It's a lot of work, but the rewards are many."
A few of her short stories were published on the Hur Herald.
My last visit with her, she ailing, I asked her about how she was.
She said, "I guess I'm getting ready to fly away."
Perhaps some writer can now compose a few verses about this grand lady "flying away."