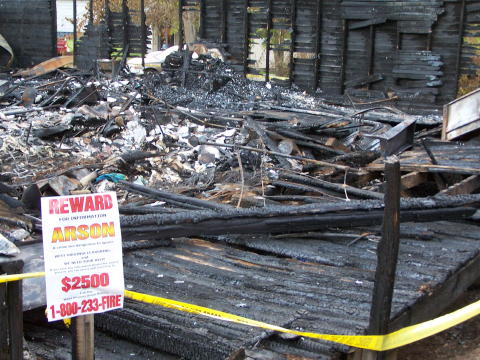 Authorities have declared historic
Creston store was a victim of arson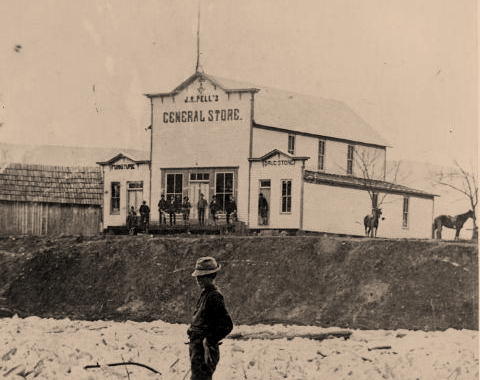 This 1901 General Store photo shows the Little Kanawha River
frozen, the furniture department (left) and the drug store (right)
2008-09-05
The State Fire Marshal has determined that Saturday night's fire that destroyed the historic Creston General Store was arson.
Their office was in Creston yesterday sifting through the debris and talking with area residents regarding possible suspects.
Authorities say they have "persons of interest" related to the arson, and are requesting help from the public regarding any information related to the incident.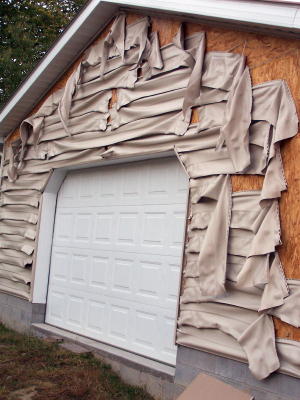 Wayne Nida's garage suffered a meltdown
The store was owned by Creston resident Alvin Engelke. He said there was no insurance on the building, which was being used for storage.
The fire melted siding on a nearby garage belonging to Wayne Nida, and also melted siding on a dwelling belonging to Anna Reno.
A nearby house belonging to Nida was likely spared because of several trees behind the store building, which reduced the enormous heat radiating on the structure.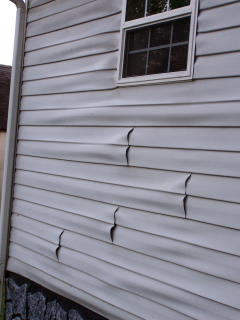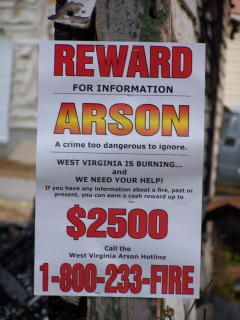 Anna Reno's house, a distance away, suffered
damage, arson reward sign posted near store
The store was built in the 1880s.
It was the last historic building in what was a thriving village 100 years ago, some of which was destroyed by fire.
Creston was a stop-off for riverboat traffic, gasoline and steam boats, that once traversed the Little Kanawha, made possible by a series of dams on the river.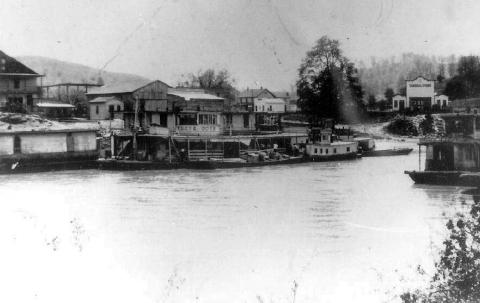 Historic Creston harbor, a stop-off for river and steamboats
in the early 1900's, much of which was destroyed by fire