THE BETTS-STEVENS HOUSE HAS BEEN RAZED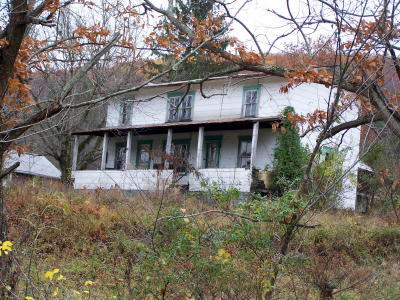 The Betts-Stevens house sits empty along Rt. 5 at Cabot Station
2007
Kathryn Ellyson writes that John Marshall Betts built the house around 1887 or 1888. Frances, his daughter, was six weeks old when he and his wife moved there.
John Marshall Betts was the son of Collins and Lavernia Stalnaker Betts of Betts Ghost fame. The ghost tale is Calhoun's best-known, widely reported and published in the 1880s.
Frances married Solomon (S. S.) Stevens. They moved into the house in 1912 and raised their family there. Sollie and Francie, as they were called, both died in the 1950's.
The house and property went to their children, Olive Stevens Crawford and Delbert Stevens. They are both deceased also, and buried in the Betts Cemetery on the hillside across from the house, as are their parents.
Collins and Lavernia Stalnaker Betts (of Betts Ghost fame) as well as John Marshall and Martha Wright Betts are buried there, too. They are Olive and Delbert's Great Grandparents and Grandparents.
The Bett's Cemetery has a large number of members from the Hosey family.
Hopefully, if the Betts Ghost is still wandering up and down the river, it might find a peaceful night in the old house.