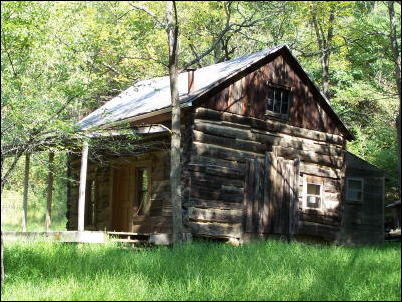 "Etta Ewing made biscuits as big as pie plates" in this remote cabin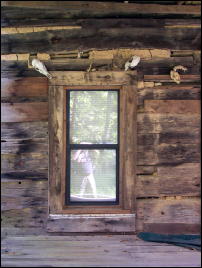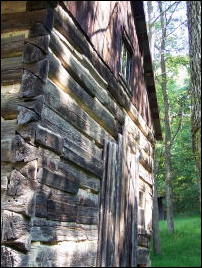 Cabin still sets in remote Katy's Run off State Rt. 5, Annamoriah
By Bob Weaver
The old log cabin on Katy's Run was occupied during most of the 20th century by the Ewing family, but its construction goes back to the late 1800s.
In a narrow hollow, sun hits the cabin but a few hours a day. There has never been electricity to the area.
Thomas Douglas (1863-1946) and Massalona Weaver Ewing (1878-1961) once lived there, and later their two unmarried children Everett and Etta spent the rest of their lives deep in the woods.
"Etta made biscuits as big as pie plates," reported Grantsville resident Neil Blankenship. "She and her brother greeted and fed every person that passed by."
Most of the Ewings are buried in the Snyder Chapel Cemetery.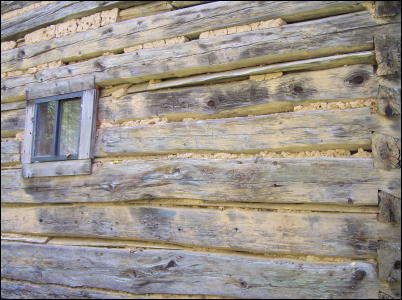 Ewing cabin still has original mud between the logs
Much of the area between State Rt. 5 (Annamoriah) and the Little Kanawha River is owned by timber companies that have purchased the acreage from Westvaco.
Blankenship says the remote section has quite a history, including the Sixteen Ridge area, where you can find a Civil War cemetery with 60 graves, Schoolhouse Cave and the large river bend farm once owned by Dr. Blair, who maintained an airport for flyers just after World War II.
That nearly 600 acres in the great bend of the Little Kanawha has long been known as the Fairfax Farm.
Across the river from the Fairfax Farm you can still spot Hedger's Ghost.
"Few people will remember the Icenoggle family, who once lived on Katy's. It's a really big area, whose history is little known," said Blankenship.
The Herald is on a mission to photograph the area and collect history of the Sixteen Ridge area, Katy's Run, and Fairfax Farm.