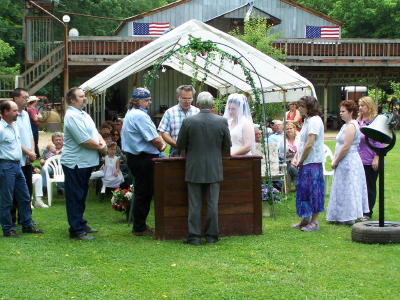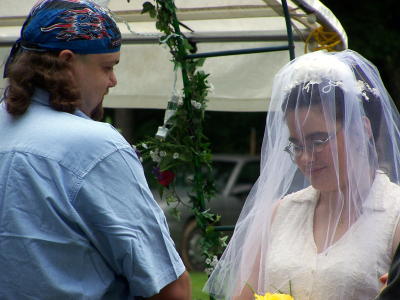 Daniel and Stacy, united at Big Al's, with Maid of Honor
Amanda Hoskins; Bridesmaid, Deva Hardman; Best Men,
Al Hogan, Scott Long and Jimmy Kerby, Rev. Carl performed ceremony
(Hur Herald Photos)
6/26/2006
Big Al's Barn has been the site of hundreds of events, but Saturday was a first. The wedding of Daniel Marks and Stacy Ann Hoskins.
"Daniel has been a regular at the barn," said Al Hogan, running the sound and video booth when the mountain music makers from the region attend the Friday night bash.
"Most of the people you see here today are part of our community family," said Al.
Saturday's event was moved outside, with a pulpit created on the lawn and tents set up for visitors. Then there was food, lots of food, a tradition at Al's Barn.
The parents of the groom are, Eva Marks and William Marks of Mt. Zion, and mother and step-father of the bride are, Joyce and Starling Holbert.
Grandparents of the bride, Leon and Nola Smith.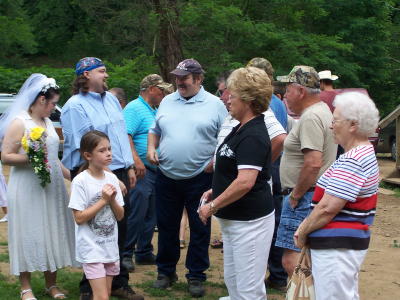 There were well wishers a'plenty ...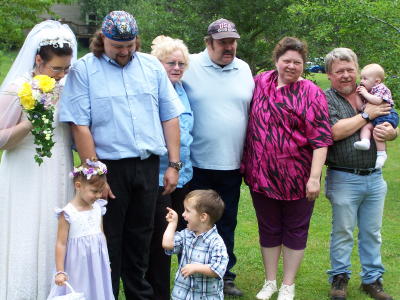 ... with lots of pictures snapped ...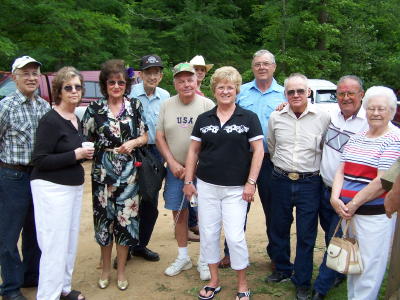 ... friends and family members enjoying the afternoon
Al's Helping Hands Ministry has raised funds and helped dozens and dozens of community people in their time of need, but it has also been a 'tie that binds' the community, a gathering place to enjoy music and celebrate life's little events.
The community, a while back, had to turn the table on Al, who has been suffering through some health problems.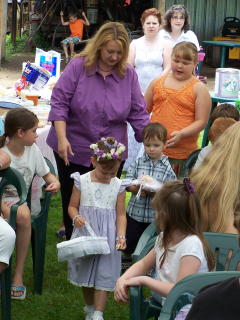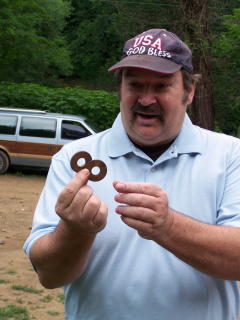 The flower girl and ring bearer do their job
Big Al with "My set of rings in case they can't find the others"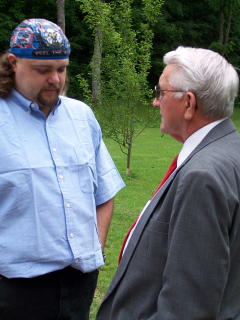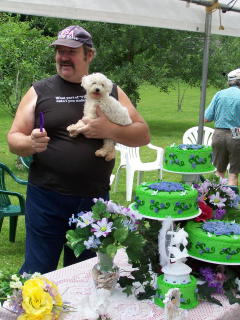 Daniel and Rev. Carl Marks discuss the vows before ceremony
Big Al says "Hey, we need a real cake knife"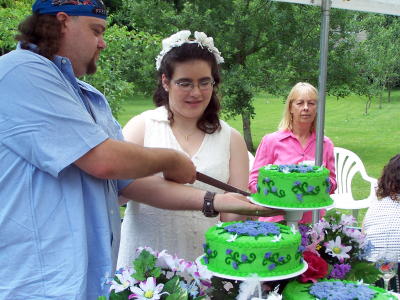 The official cutting of the cake