Introduction/Bob Weaver

Godfrey Lowell Cabot (1861-1962), whose face was well-known to Calhoun citizens during the early part of the last century, was worth $100 million dollars in 1956 when he wrote a piece for the Calhoun Centennial book, describing himself as "professional tramp," walking his pipelines from one end of the county to the other, frequently staying all-night with farmers along the way.

Cabot was an overnight boarder in the early 1900s at grandfather John Ira McCoy's house in the village of Hur.

It is unlikely Calhoun farmers knew about his enormous wealth, as he went about drilling some of the first wells in the county and building what was then called the world's largest carbon black factory at Cabot Station.

Cabot's middle and last names appear in a well-known American ditty: "And this is good old Boston, The home of the bean and the cod, Where the Lowells talk to the Cabots, And the Cabots talk only to God."

Cabot and other early extractors set the business and political framework that exists today in West Virginia, separating royalty from landowners, issuing contracts that that sounded good to poor farmers and giving an upper hand to big business.

Big money interests and WV politicians with open-hands are the answer to the question - "Why is it that regions with the greatest natural wealth have ended up being the poorest?"

- Bob Weaver
Godfrey Lowell Cabot
By Dr. G. L. Cabot
Member of Historical Committee,
Calhoun County Centennial 1956
The first time I entered your county was in February, 1899. At that time there were no good country roads in West Virginia-that is roads that were good in the wintertime.
Now there are a great many first-class country roads in West Virginia and it is very greatly changed in this regard.
I came via Parkersburg and Elizabeth, County Seat of Wirt County and the horse that I hired to take me and my bag through the mud up to Grantsville was a very poor apology for a horse, as a result of which I walked about half the way and about half the way I rode on his back.
It so happened that I was walking when I entered the Town of Grantsville, leading the horse. It was a Friday afternoon and the next morning the weekly county paper-The Calhoun Chronicle-appeared, and the first item on local matters was four words: "Cabot is a walker".
In September I went to work to help tube the A. G. Mathews well-my first well drilled in West Virginia which was just being completed and is still producing today.
I bought 16 acres of ground on the Little Kanawha River not, quite a mile down stream from the City of Grantsville. I was told that the house I built for my foreman-which was a plastered house-was the first plastered house in the county.
CABOT STARTS LAMP BLACK FACTORY
In the wintertime the cheapest way to transport freight from my factory to the railroad which reached Elizabeth or even to Parkersburg, was by river boats propelled by gasoline engines-internal combustion engines-but sometime for three or four months at a time I sent no black down the river because the expense was prohibitive.
Before very long I laid a 5 and 5-8" line to the City of Grantsville and furnished them from that time to this with reasonably reliable gas supply.
Subsequently our lines were extended to Elizabeth and various other points in West Virginia until we had some hundreds of miles and we have now over 500 gas wells east of the Mississippi, mostly in West Virginia and Pennsylvania.
At one time the Grantsville Carbon Black plant was the largest in the world, but now there are many others that are larger, particularly in Texas, which is now the chief source of our supply.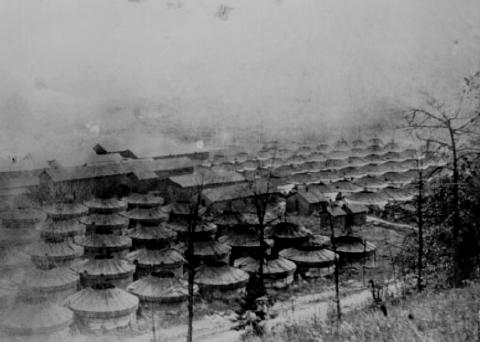 Godfrey L. Cabot Carbon Black Factory November 1919
In 1913 I purchased the West Virginia Carbon Company plant that had been built just above the Grantsville plant on the other side of the river.
In 1922, Godfrey L. Cabot, Inc. was formed by my sons James Jackson Cabot and Thomas D. Cabot while I was going around the world with Mrs. Cabot, and brought in gas from other counties and now have about 1,306 miles of pipeline within the bounds of West Virginia, 421 miles of which is in Calhoun County.
I have been fortunate in having many very faithful and efficient men first and last beginning with L. P. Bickel, my first foreman in Calhoun County.
Joseph Smith who was a very beloved friend as well as an efficient and loyal operator until his last illness. I may also mention J. G. Oles, Senator L. J. Morris, A. G. Burns and T. W. Proudfoot.
For many years I walked my pipelines in West Virginia two or three times a year and greatly enjoyed the beauty of the scenery and vegetation.
I look back with great pleasure and thankfulness on the delightful experience of many contacts with your citizens and the many good friends that I have made there.
It gives me great pleasure to think that I have contributed something to the daily comfort of a good many people in West Virginia by supplying natural gas to them and giving reasonably good service.
I am sure that the miles I have walked through your hills and valleys at all seasons of the year have done their part in making me a "professional tramp" which proud title I have at last been obliged to forgo by reason of the weakness of extreme old age.
CABOT KNOWN TO CALHOUN AS ORDINARY MAN
By Bob Weaver
Newspaper accounts describe multi-millionaire Godfrey L. Cabot as a fair man, often going beyond the call to help his Calhoun workers, or sticking with them after they suffered problems.
But history is not so kind to the multi-millionaire, his humble demeanor is suspect in taking advantage of local farmers at a time when a few dollars meant a lot.
Cabot's carbon black factory at Cabot Station was a dangerous operation, injuring and killing a number of Calhoun men. The drilling business was also hazardous.
Cabot was born in Boston, the son of Samuel Cabot, a physician, and Hannah Lowell Jackson. He became a leading American industrialist and philanthropist.
The Cabot Corporation was an industrial empire which included carbon black plants and tens of thousands of acres of land rich in gas, oil, and other minerals.
Early-on the Cabot's owned 1,000 miles of pipeline, seven corporations with worldwide operations, three facilities for converting natural gas into gasoline, and a large number of research labs.
The Cabot's got into the carbon black business in 1890, but when the auto industry began to flourish, it took six pounds of carbon black to make a single tire. The Cabot Station carbon black factory flourished as did company profits.
Godfrey L. gave $647,700 to MIT in 1930 to support solar research. That research resulted in important discoveries in photochemistry and thermal electricity and in the construction of experimental solar houses.
Cabot also gave $615,773 to Harvard for Botanical Research, among many other research efforts.
Cabot was opposed to any kind of book that he considered might corrupt the publics morals, and was active to have books banned he considered unworthy.
He legally fought or harassed such writers as Conrad Aiken, Sherwood Anderson, John Dos Passos, Theodore Dreiser, William Faulkner, Ernest Hemingway, Aldous Huxley, James Joyce, Sinclair Lewis, Bertrand Russell, Upton Sinclair, and H. G. Wells.
But it was the less complicated Cabot that was known to Calhoun folks, who would see this man with his walking stick coming down the dusty road or path toward their farmhouse.
Cabot would stop and eat meals along the way, not an unusual custom at the time.
My grandfather, John I. McCoy of Hur, spoke of Cabot like he would speak of any other farmer passing by, dropping in for a meal and a bed.
Cabot had a keen business sense, and was behind those deals where companies obtained mineral rights at a fraction of their worth.
Grandpa McCoy said "He was pretty tight."
At least two books have been written about Cabot: Leon Harris' "Only to God: The Extraordinary Life of Godfrey Lowell Cabot" (1967) and Webster Bull's "My Father, My Brother: A History of Godfrey L. Cabot Inc." (1986).