By Bob Weaver 2005

Hundreds of thousands of Americans have had their lives written by the wind this year - lives lost, houses destroyed and jobs gone.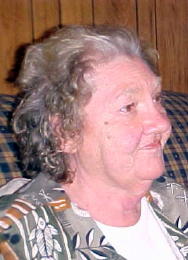 Yellow Creek native, 75-year-old Virginia Webb Papania (pictured left), has returned to her Calhoun roots seeking refuge from life disrupted as hurricane Rita swept across the Texas gulf coast.
Her long-time home in the town of Nederlands, located between Beaumont and Port Arthur, was heavily damaged, the roof ripped off.
She moved to the coastal Texas town of 27,000 shortly after graduating from Calhoun County High School in 1947, after meeting her Marine husband, Leo Lucas Papania, a Texas native and veteran of World War II.
Her husband, now deceased, was a meat cutter, and Virginia was a hospital worker, until her retirement. They have two sons and two daughters.
Virginia and her son, Michael, fortunately heeded the warnings and fled the area, coming back to the quiet Yellow Creek valley of her youth.
"We've been through a lot of hurricanes, but this was by far the worst," said Michael.
"The worst thing I can remember happening on Yellow Creek was in 1943 when my school (the Ayer's one room school) washed away," she said.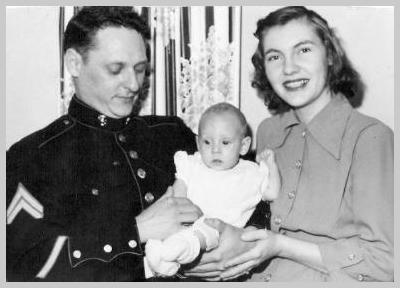 Virginia married her Marine soldier
after graduating from Calhoun High in 1947
Virginia and her son have been staying with her niece and her husband, Kathy and Shirl Badgett, while her home gets repaired or rebuilt.
"Thank God for insurance," she said, "The entire house has to be re-done. My husband said, make sure you pay that insurance premium."
"My daughter did get back into the house and got our family albums and some items that meant a lot to us," she said.
Virginia was the daughter of the late Bill and Yetta Webb, long-time Yellow Creek residents. Her brothers, Jack Webb (deceased) and Joe Webb of Grantsville; sisters, Doris Hertz of Parkersburg, Betty Sims Boggs of Big Springs, Jeanette White and Linda Ferrell of Akron and Wilma Kay Richards of Mt. Zion.
Virginia is also proud of her seven grandchildren and ten great-grandchildren.
As the third hurricane, Wilma, is beating on the costal shore, Virginia issued a reminder to future victims about what is important - "It's been hard, but I've had my wonderful, wonderful family to help us through."