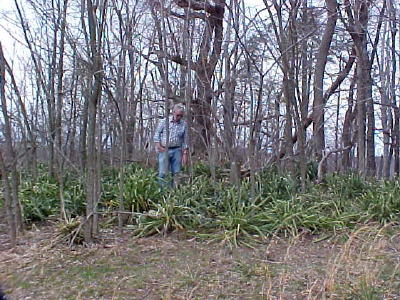 Larry Dawson examines the few marked graves in Town Hill Rd. cemetery
2005
Larry Dawson of Town Hill Road, just off State Rt. 16 near Grantsville, says he has often been fascinated with an unlisted cemetery on a knoll near his house.
The cemetery has a great view across the hills toward Gilmer County.
Dawson said locals have often called it an IOOF cemetery, but only a dozen or so people appear to be buried there, with only three marked graves.
Two of the marked graves say Robert Bennett (1867-1905) and brother Nathan L. Bennett (1873-1939). There is also an infant Bennett buried in the cemetery, which also has some graves which appear to have the caskets removed at some point in time.
A quick check with census and marriage records did not show either.
The cemetery is not listed in the historical society cemetery book.
If you have information about these individuals or cemetery, please let us hear from you.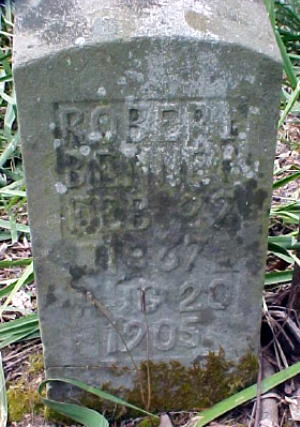 Grave marker describes Robert Bennett (1867-1905)