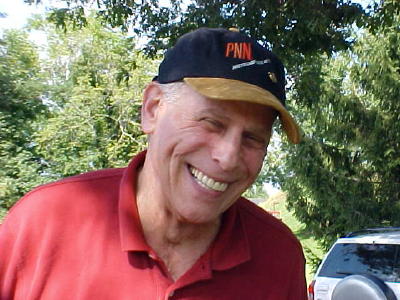 Gary Gladstone at Hur, WV
By Bob Weaver 2004
Award-winning photographer Gary Gladstone came to Calhoun this past weekend to visit Joker, a faded place and long-gone post office not far from the Village of Hur.
He is among many writers, reporters and photographers who have seen fit to come to visit the corporate headquarters of the Hur Herald.
He wanted to know how Joker got its name. Fortunately, with my trivial knowledge, I was able to tell him that a man named Joker Sewell lit in the growing village about 1900 to become its first postmaster. He used his first name to complete the name designation for the postal service.
His afternoon visit to Hur was a reminder about "place." How people are connected to their spot on the world, although such attachment seems to be fading with our highly mobile society that moves and changes jobs about every five years.
Gary Gladstone has been photographing for many of America's major magazines including, Life, Look, and The Saturday Evening Post, but now he has taken time for a five-year journey across 40 states, exploring strangely named places and meeting the interesting people who live there.
He has been a frequent guest on TV and radio programs, more recently talking about his book Passing Gas...and Other Towns Along the American Highway.
Gary said, "I drove 38,000 miles visiting tiny places with funny names. I made a portrait in a different town everyday ..."
Explaining how to find her café in Gas, Kansas, Bonnie Stewart said, "Come down Route 12, but if you blink, you'll pass Gas."
Gladstone has visited other West Virginia places like Big Ugly, War, Looneyville, Lefthand and Odd, they are included in his book.
Near Joker he found Bubby and Junior Brown, who graciously posed for a picture Gladstone will likely use in his second book.
The nice thing about Gary Gladstone is his appreciation of the people and their places. He is really enjoying doing this, a shift out of his world of competitive deadlines.
The giggles in the beautifully photographed book are worth the price, looking into the faces of real people who live in strangely named places.
Gary has visited and included in Passing Gas... such places as, Embarrass, Illinois; Sweetlips, Tennessee; Nuttsville, Virginia, Purgatory, Maine; Surprise, New York; Tightwad, Missouri; Boring, Oregon and Dull, Ohio, to name a few.