By Alice Marie Harris 2004

I am the oldest granddaughter of William "Bill" and Ernestine "Dude" Harris. Today as I was going about the daily task of running my Parkersburg, WV accounting practice, both of them suddenly popped into my mind.

This is not unusual, I think of them often. But today, for whatever reason, I just couldn't stop thinking of them. Perhaps it's because today was one of those days which helps to reminded me of how fortunate I am to have had these wonder people in my life.

They say that you can't pick your family so I consider myself very lucky to have ended up with such wonderful grandparents. The values they instilled in my father who in turn instilled in me have served me very well.

My grandfather was an outgoing man who never met a stranger. He was what I call a social butterfly and loved to talk. He was also somewhat of a dreamer and given the chance probably would have been a world traveler. But, because of family and other circumstances, he settled in Grantsville and devoted himself to the community. The list of people he touched in the community is as long as my arm.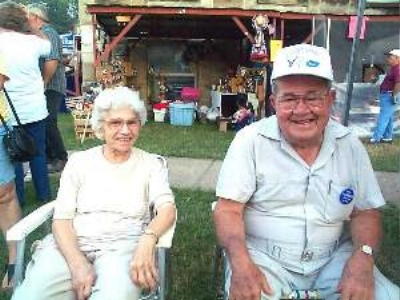 Ernestine Winfred Wilson Harris (1920-2000)
William D. "Bill" Harris (1921-2003)
Photo from Wood Festival 2000 - Hur Herald
My grandmother, on the other hand, was an intensely private person. She was more content to sit back, listen, and take everything in. Though she was a private person, she was warm and generous to those she really knew and especially to those she loved. She also possessed a wicked sense of humor. Nothing was more wonderful or comforting than to hear her really cut loose and laugh out loud. She was the family's anchor.
They taught me about hard work, integrity, and honesty.These lessons were not taught through words but through the way they lived their lives. We are all flawed, but Bill and Ernestine Harris tried their very best to live life the way it should be lived. Their children's lives (Bob, Judy, Dorothy and Larry) are a living testament to their values and beliefs. They were both very proud of their family.
Every child looks at their grandparents with love and adulation. I was no exception.
My love and appreciation for them grew even stronger as I became an adult and realized the hardships they endured together. When I was 18 years old my grandmother told me about when my mother was pregnant with me, my father came to her and asked for her permission to name me after my aunt Alice Marie who passed away when she was just 18 months old.
I cannot even imagine the pain of losing an infant child, but I can't imagine anything worse. I don't know if she ever told my father how touched she was that he had chosen this name for me and how much it meant to her.
While nothing could erase the pain of losing her beloved daughter, having a granddaughter as her namesake helped her. The simple act of sharing this story with me gave me such as sense of pride and a much better understanding of who I am. In her lifetime and beyond, she gave me no greater gift.
I would encourage your readers whose grandparents are still alive to ask questions about their family. It's a great way to get to know who your grandparents are as people and learn more about your own family history. At the very least, you will be left with priceless memories. I know I was.
2004