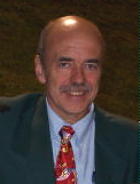 By Harry Beall

I got a call from my wife (Trina) a few evenings ago. She was in Glenville at the college where she takes classes and had lost her keys. I had the extra key to the Jeep with me. What the heck? It was a beautiful, clear evening with a full moon and not a cloud in the sky. So I drove to Glenville, gave Trina the extra key, and started back. On the 20 mile drive to Grantsville, I counted 17 cars headed the other way with their fog lights on. Did I mention it was a clear evening?

Fog lights are a wonderful thing. If you keep them on, you never have to fool with that annoying dimmer switch. It's perfectly legal and they work just as well as the bright lights.

There is a reason they are called FOG lights. You know….when it's foggy. If I could change one law, it would be that it is illegal to have your fog lights on unless there is fog. Maybe there is a law and it is just not enforced. It might be convenient for the person using them, but not when you are blinded by every other driver that is too lazy to use a dimmer switch.

So if you are driving along on a clear night with your fog lights on and you get a flash of high beams from an oncoming car ... guess who?