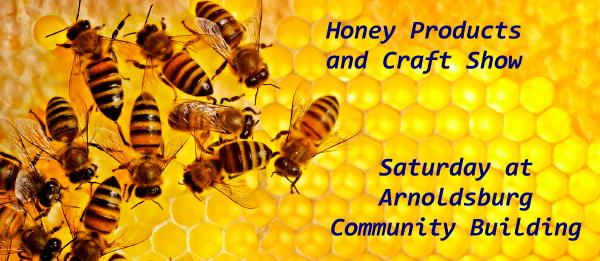 West Central Beekeepers Association will have a honey products and craft show Saturday, September 9 at the Arnoldsburg Community Building, from 10 a.m. to 7 p.m.
Included during the event will be • Beekeeping seminars and information • Locally made honey, soaps, lotions, candles and crafts for sale.
• Delicious food made with local honey • Other food items for sale include: Hotdogs, Biscuits with Honey, Sloppy Joes and Nacho Chips with cheese.
• A dinner from 4:30 to 6:30 includes Lasagna, coleslaw, roll and dessert - Adults $5.00 Children 12 and under $3.00.
• Raffle tickets for a 31 Tote filled with with gifts and cash and a raffle for a bee hive will be sold. Winning tickets will be drawn on October 28th, do not need to be present to win.
• Additional vendors will have leather work, goat milk soap, primitives, hand painted items, woodwork, wreaths, homemade Christmas items, fresh garlic powder, and more for sale.