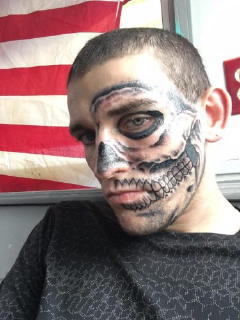 Charleston police arrested a man Friday morning after they say he allegedly sent more than 100 explicit photos to a minor.

Tyler Holstein, 23, was charged with dozens of counts for soliciting a minor for sexual activity and obscene communication in Roane and Mason counties.

Police said Holstein was taken into custody at the Red Roof Inn in Kanawha City after he allegedly tried to lure a teenage girl to the hotel to have sex with him.

Holstein is accused of connecting with the girl on Facebook. Mason County sheriff's deputies were originally working the case.

Holstein was part of the homeless community in Charleston.

On his Facebook page, his name is Tyler Holstein (King Isis). He lists his occupation as "Leader at Terrorist" and "School Shooter at Isis Headquarters." Several photos on his page show him holding guns, hand cuffs and wearing a mask.