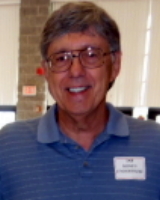 By Sidney Underwood 2015
As a kid growing up in Calhoun County, I realize now that I led a very sheltered life. I knew nothing of the world other than what I experienced in Calhoun County. The town of Grantsville of the 1950ís that I remember was much like the fictional town of Mayberry of the Andy Griffin show on TV.

I remember my Dad supporting Mom and me on a teaching salary of about $5000.00 per year. I always had enough to eat, a warm bed to sleep in and clean clothes to wear to school.

As an active and growing kid, Iím sure I tried my Momís patience many times when I came home with torn and ripped places in my jeans and missing buttons on my shirts. Climbing trees, playing marbles on my knees and playing tackle football with other kids in someoneís backyard certainly tested the integrity of my clothing.

That made it necessary to wear patches on my jeans and multicolored buttons on my shirts.

My Mom, who was a good seamstress, made sure the patches and buttons were done neatly and I never felt bad about wearing those clothes to school as many other boys also wore patched jeans. Mostly, I wore Wrangler 13 oz denim jeans made in Blue Bell, Pennsylvania because my Mom said they were the longest wearing jeans that she could find for me.

She would buy them uptown at Gunnís Department Store with the inseams too long and I would roll them up creating large funny looking cuffs. After several months of my constantly growing taller, the inseams would be correct, but by that time the jeans would have acquired many patches. But you know what, I wore those patches proudly.

Every August I would get a new pair of shoes for school and several pairs of cotton pants, a new winter coat and several shirts. My older clothing that I had outgrown was usually given to one of my younger cousins. Those new clothes would be the result of a rare trip to Parkersburg shopping at Sears Roebuck and Montgomery Ward Department stores.

I knew those clothes were for dress up occasions and expected to last the entire year. Mom taught me to change into older rough clothing when I got home from school before venturing out into Hardman Alley to play ball with Bill Umstead or go bike riding on the lower streets.

I never thought much about whether we were rich or poor. In fact, I never studied other kidís clothing enough to decide if I was jealous or envious of what they wore because they seemed to be wearing clothing similar to mine. I was much more impressed when another kid showed up with a new bicycle.

Mom always said that our family was middle class. So, I assumed that everybody else in our neighborhood was middle class like us. I had no way of knowing that I was in a much better situation than some of the kids who lived on the north side of town. I remember at the town grade school we all played together during recess and there were no class distinctions made.

We lived in a small single story house on Hardman Alley. It contained a living room, dining room and two bedrooms with a small kitchen and an even smaller bathroom. The bathroom had a claw footed bath tub, commode and sink with a tiny space heater stove for use in winter months. It was so cramped in there that the hot water tank was on the other side of the wall in the kitchen. We had linoleum on the floors instead of carpet which we could not afford anyway. Mom kept the house clean and expected Dad and me to do the same.

When I was eleven she taught me how to run the Hamilton-Beach canister vacuum cleaner and from that day on it was my job. I would clean the old couch and the new recliner from the Calhoun Super Service that she was so proud of. I also vacuumed the floors with the special lint brush. Sometimes I swept the front porch floor and steps which was no big deal. I never mopped the floors because Mom was fussy about that and insisted on doing that chore herself because, according to her, I left the floors too wet.

I had other typical chores to do such as helping her on wash day by setting out the wooden bench and filling the large wash tubs with water when she used the Maytag wringer washing machine. I also helped hang the clothes on the line that ran alongside our house. One funny thing was the fact that she never quite trusted me to hang the sheets by myself. She would let me help, but only when she was there to supervise. She was so sure that I would let them touch the ground if I tried to do it by myself.

When you entered Hardman Alley from Mill Street, you would see modest houses set rather close together. Those houses were neat in appearance with potted plants on the porches and some had flower gardens near the sidewalk. The lawns were mowed and a sense of neatness prevailed. I remember that we had an old reel type push mower and it might have taken Dad 15 minutes to mow our narrow yard. What you would not see was trash of any kind on the porches or in the yards. Nor would you see junked cars or car parts lying around. It was accepted that everyone had enough pride to maintain their property in an acceptable manner.

It was rather intimidating for a stranger to drive down Hardman Alley. When the men came home from work, they parked on the left side in front of their homes. In the evening there might be five or six parked cars all facing River Street. Anyone driving down the alley was forced to drive to the right going temporarily up on the sidewalk to get past them. The trash truck drivers, Mr. Harris and Mr. Godfrey, exhibited special skill when they drove past the parked cars with only inches to spare.

I remember one of my Dadís brothers visiting us one time and he had just bought a new 1955 Ford coupe. It was a hard top convertible and really looked good in that two-tone yellow and black combination with white-wall tires. It was parked behind our car and the comparison was striking. His car made our old Plymouth look bad. My Uncle Artsel was so uneasy sitting there on the porch thinking someone might hit his car.

My Dad laughed and said that his old Plymouth had been hit only once and he was certain no one would consider hitting a nice new car like that. I think now that Dad might have been messing with his brother. Finally, after several cars eased by, Uncle Artsel could stand the strain no longer and got up and moved his car off the alley.

My Dad drove a 53 Plymouth which was his second new car. Bob and Beulah Mace lived across the alley. Bob worked bridge construction and owned a 52 Dodge. Stanley Díorazio was a local attorney and his family lived directly across from our home. He drove a Nash that was older than the two cars just mentioned. So, you had a teacher, a construction worker and a lawyer all driving ordinary cars. I think that speaks volumes about the Hardman Alley of the 1950ís.

At a very young age I realized that certain items were beyond my reach and I was ok with that. Although I was a huge fan of Gene Autry, I knew that I would never get a pony. I remember Mom telling me to think real hard on that because she was not going to let it sleep in the house and we did not have a barn. I thought Bill Umstead and Robert Lowe were lucky in that both had Lional Electric train sets and I would have liked one for myself. But, they were good guys and allowed me to play with their trains when I visited them. I was content with the usual toys of that era purchased generally from Kingsberryís Ben Franklin Store uptown such as little metal cars, cap guns, Lincoln logs and model airplanes that I built.

Many years have passed since I lived on Hardman Alley and many changes have occurred in this country. Most striking to me is the continuing decline of the middle class of which I am so proud to have been a member of and the disparity of income that is so evident now. Maybe I was just not paying attention, but it seems to me that we were more equal as a people when I was a child.

Not having everything that I wanted did not stunt my growth as a person. Nor did it make me decide to collect all those items that were denied me during my youth. I had a happy childhood knowing that I was loved by my parents and growing up safe from harm in a small town.

When I look at kids today, I am amazed at how much they want and demand. Obliging parents seem to want their children to experience it all thinking somehow they have failed if that doesnít happen. I still believe that doing without the highly advertised latest must have item is not a bad thing. We lose the appreciation for the small things in life like having a warm bed and enough food if we constantly strive for material things.

This rather rambling essay was not meant to be a social commentary, but in a way it is. I have grandchildren now and what they have at such a young age amazes me. I remember I would put all my toys in a cardboard box which I was expected to do every night. Donít get me wrong, I dearly love my grandchildren. But, I marvel at all the toys and possessions they have at such a young age compared to what I had.

Are my grandchildren happier now than I was back there on Hardman Alley in the 1950ís? Probably not. But, as some people say, the world has turned and we are looking at a new tomorrow and things are different. That is correct, things are very different now. I worry about the future and what my grandchildren will face. With all the problems we are experiencing with terrorism, the drug culture that surrounds us and continuing civil strife, I can only ask this question. Where do we go from here?