By Bob Weaver

For more than a century thousands of Calhoun citizens went to St. Josephs Hospital in Parkersburg for medical treatment.

Now the hospital is closed, with services being transferred to Camden-Clark Hospital.

Long before Minnie Hamilton Health System, former Calhoun physician Dr. Charles Albert Stump said it was a critical decision in the early days of Calhoun healthcare whether or not the condition could be treated at the local clinic, or deciding "can they make it to Parkersburg."

As a four-year-old child I spent a couple months in St. Joseph, clinging to life, after suffering ruptured appendix followed by peritonitis and double pneumonia.

Doctors packed my head in ice when my temperature rose to 107 degrees, causing hallucinations, which I can vaguely recall.

Physicians told my parents my survival was slim and if I survived, I would likely have brain damage.

The prognosis might have been fortuitous.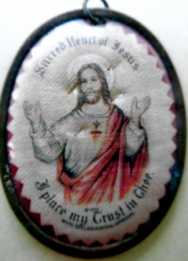 I have some memories of Catholic nuns with full dress by my beside, praying prayer after prayer, attaching a religious symbol around my neck, which I still possess (left).
My dad, who was a softball playing friend of Dr. Curtis Artz, the Grantsville physician of the time, asking him for advice. Dr. Artz said the new "miracle drug" penicillin might save my life, although it was not widely available.
Dr. Artz called John Hopkins Hospital in Baltimore and arranged for the delivery of the drug and drove half-way to Baltimore to receive the delivery, taking it to the Parkersburg hospital.
Vials of the drug at that time cost several hundred dollars, and my dad, who had little financial means, went to a man-of-means Allie Hardman, who gave him the money.
At that time, no signature on a note was required, only a "man's word" mattered. My dad's "word was gold."
Undoubtedly the drug saved my life, while the Catholic sisters sought permission of my parents to give me the last rites, which a priest delivered.
I still have the emblem placed around my neck.
My mother saved the hard cardboard cylinders for years in which the "miracle drug" was delivered, and years later, when at the hospital she would point up to a fourth story room, reminding me of the event.
I just returned to St. Joseph's to look up at the now closed hospital, to renew some gratitude for my parents and all those who allowed me to live my life into old age, including the Higher Power.
I think it took my dad four years to repay Hardman, in addition to the hospital costs.
Recalling my personal story, I'm sure many Calhoun citizens of generations past have similar recollections of St. Joseph Hospital.
Roane County writer Orton Jones recalled a similar instance in his Times Record/Roane Co. Reporter column of penicillin being delivered to the DePue Hospital in Spencer in 1944, saving his brother's life.
I'm often dismayed when the current generation is critical of local health services, unaware of the progress that has been made in rural Calhoun.
At the closing of St. Joseph, about 200 former employees, patients and supporters came to the front of the hospital to watch the removal of the signs and light candles.
Some employees said they simply broke down because they left a lifetime of blood, sweat and tears, day after day, year after year.