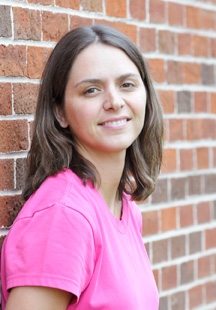 Tracy Wyatt Raban - Thursday in Bluefield, VA

Story and Photo by Drew Moody

Former Glenville State College Lady Pioneer point guard Tracy Wyatt Raban, a 2005 graduate, is accustomed to making history.

Saturday evening the 29-year-old will become the youngest individual (man or woman) inducted into Glenville State College's Curtis Elam Athletic Hall of Fame.

Without hesitation, former Lady Pioneer head coach Steve Harold, said Raban is "by far the best point guard this league has ever seen." Harold is now the head coach of the Drury University Lady Panthers basketball team in Missouri.

He credits Raban's presence as the boost the team needed to be competitive on a national level "She made everyone around her better."

"She's just phenomenal."

As a sophomore transfer from Bluefield, the 3-time All-American led the Lady Pioneers to the Elite 8 NCAA Division II National Championship semi-finals in 2002. That year alone her accolades outpaced the total career recognition of many great players.

In addition to her All-American status, Raban was included in the Elite 8 All-Tournament Team, 1st Team All-East Region, East Region All-Tournament Team, East Region Tournament MVP, WVIAC Player of the Year, WVIAC 1st Team All-Conference, WVIAC Tournament MVP, and WVIAC All Tournament Team.

She also set an Elite 8 tournament record, sinking 16 of 16 free throws.

And that's just the 2002 honors.

REFLECTING ON HER YEARS IN GLENVILLE

Relaxing in her Graham Middle School (Bluefield, VA) office Thursday morning, physical education instructor, Raban reflected on Glenville and her upcoming Hall of Fame induction.

"It has the potential to be a very emotional time."

"Obviously the honor is great, but I'm going back to my second home. Glenville made me who I am. I am going back to my second family. A lot of people in the community are a huge part of my life," including former coach, Steve Harold, who she views as her "second father."

Raban says she already knew what it took to win, but Coach Harold and the Lady Pioneer team made her want to work harder. And work hard she did.

During her Lady Pioneer basketball career, the team's overall record was 87-12. They were undefeated at home in 32 consecutive games. The home court streak continued setting a national record of 64 consecutive wins. Today it stands as the 3rd longest in NCAA Division II history.

Eighteen months ago she required emergency surgery following the birth to her first child. While the newborn sailed through the event, Raban's post-delivery condition briefly became critical due to internal bleeding.

The experience opened a floodgate of warm Glenville memories.

Raban and her husband, Dana, named their daughter Peyton Alexis.

Fortunately, Raban's recovery was quicker than expected and she was discharged after just seven days in the hospital. It would be another two months, however, before she could return to work.

"When I got sick I really saw how much the people in Glenville cared about me, and how much they meant to me. I almost died."

THE EARLY YEARS AND BEYOND

Raban recalls sitting on the family couch as an infant watching sports with her father, Bobby. Today, she and Peyton are repeating that history.

By kindergarten, Raban began playing basketball. Bobby and Pam Wyatt traveled frequently for sporting-related events, hoping to give Tracy and her brother, Josh, every opportunity to hone and improve their skills.

She excelled in other sports as well, including gymnastics. Her performances were at such a high level Raban was invited to study under famed Olympic coach Bela Karolyi, headquartered in Texas at the time. Karolyi is the former coach of Fairmont's Mary Lou Retton and Romania's Nadia Comaneci, both Olympic Gold Medalist's.

"I said no, basketball is my sport."

At age 12 her Youth Basketball Team of America team won the national championship. Raban was selected tournament MVP.

"I was always a winner, on winning programs, so I knew what it took to win."

Attending the small Mercer Christian Academy, she led the team to three state championship finals, capturing the state title her junior and senior years.

Raban attended Bluefield State College her freshman year, winning WVIAC Freshman of the Year in 2001 as well as being selected for WVIAC 2nd Team All-Conference honors.

Currently, she's entering her fifth year as head coach of the Graham High School girls basketball team. Prior to her arrival there school records indicated the girls team hadn't advanced to the state tournaments since the Great Depression (1929), she said.

Raban's teams have made appearances in the state tournaments twice. For her efforts in turning around the program, Raban was named 2006 Southwest Virginia Coach of the Year.

BY THE NUMBERS - COLLEGIATE ACCOMPLISHMENTS

In addition to the 2001 and 2002 honors noted above, Raban also made the Kodak 1st Team All East Region in 2004. She was given a nod for Daktronics 1st Team All East Region (2003, 2004).

Raban made the East Region All Tournament Team (2003, 2004).

She was awarded the Neal Biasi Award honoring West Virginia's top female player in 2002 and 2003.

In addition, made the WVIAC 1st Team All Conference (2003, 2004). WVIAC Most Valuable Player, 2003. WVIAC All Tournament Team (2003, 2004).

She was named MVP of the West Bus Lines, West Chester University, and Comfort Inn Classic Tournaments in 2004.

With Raban leading the Lady Pioneers the team captured three regular season championships, two WVIAC Tournament Championships, an East Regional Championship, and advanced to the NCAA Elite 8 National Semi-Finals.

Raban scored 1877 career points, 3rd highest All-time GSC rank. She holds two GSC records with 755 assists and 379 steals. With 117 3-point field goals, she ranks 5th highest in GSC history. Her rebound total is 536, making her the 17th all-time leading rebounder.

Also being inducted into the Curtis Elam Hall of Fame Saturday evening at the Mollohan Center are: Keith Smith '64, Harold Erwin '65, Donna Newberry '73, and Charles "Chup" Robinson.

Social hour is from 5 to 6 p.m. A banquet begins at 6 p.m. Induction ceremonies follow.