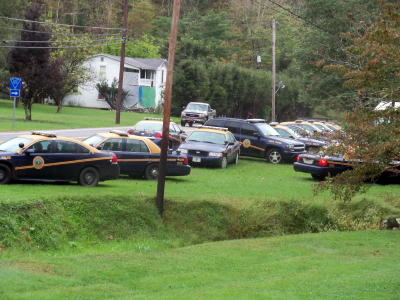 A large task force of State Policemen came to Calhoun yesterday,
with sources indicating it was part of a drug eradication program, not confirmed
State Police troopers and cruisers came to Calhoun yesterday, reportedly part of the agencies marijuana eradication program,
Calls to the Herald speculated their appearance was linked to the recent bank robbery at Arnoldsburg.
About 15 cruisers and a cadre of troopers participated in the exercise, with flyovers by one or more helicopters.
Troopers were reported in several parts of the county.
A marijuana eradication done by the local detachment a couple weeks ago, using chopper surveillance, resulted in the confiscation of a number of plants and several arrests.