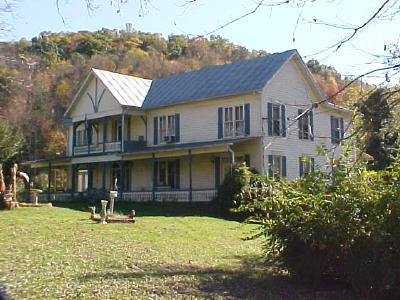 Burnt House's historic hotel and site of Harris Tavern,
still lovingly cared for by Rymarz family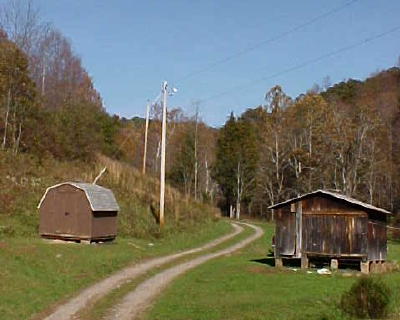 Hollow where tinkers were buried after being
murdered inside Harris Tavern, built in 1836
By Bob Weaver 2005
John and Carol Rymarz of Burnt House have lovingly restored and preserved one of the Parkersburg-Staunton Turnpike's historic houses, which has both history and legend.
The peaceful locale has fascinating tales connected to the famous house, including a murderous event prior to the Civil War.
Parson Woodford was delivering his Sunday sermon about 1855 when parishioners smelled smoke, to look outside the Ritchie County church to discover the Harris Tavern was on fire, where peddlers had been murdered and taken to Dead Man's Hollow to be buried.
The 1836 watering spot, owned by John Harris, was a landmark along the Staunton-Parkersburg Turnpike, during the time the historic 180-mile road was being built.
The tavern kept overnight guests, a frequent stopover for back peddlers, some of which disappeared without a trace. A stagecoach line called the Pinkerton Detective Agency to investigate.
Pinkerton reported Harris' mulatto son, William, had been having an affair with a black slave girl named Deloris, who had been wearing jewelry carried by a missing tinker. A stable hand testified they saw William cut the head off one of the salesmen.
The stable hand told Pinkerton he watched as a slave boy helped Harris carry a body up Dead Man's Hollow and bury it under a rock cliff.
The elder Harris and his son fled to Texas, where the younger Harris was caught and hanged.
Then the ghost tale about "Deloris the Slave Girl" was told. Deloris was left behind to be sold in slavery, mourning the loss of her relationship with one of the Harris'. She reportedly set the fire in which she burned to death, after which her ghost began to haunt the community.
The current owners say they have never had a hint of Deloris' ghostly form over the past 20 years.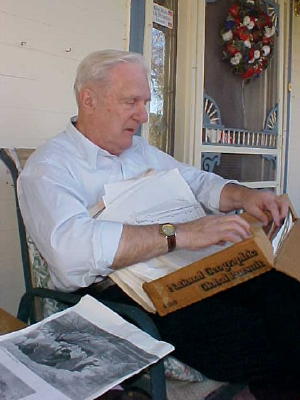 John Rymarz has collected clippings and
documents about the long history of his home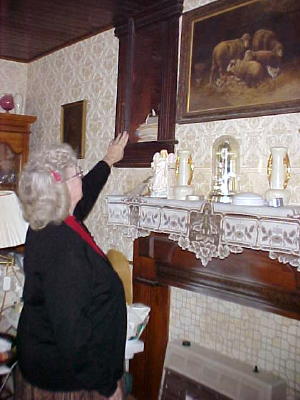 Carol Rymarz displays compartments around
chimneys that were used for bread warming
Rymarz said a new structure was built on the site about 1880, being operated as a hotel by Henry Fling and members of their family.
The hotel was purchased by Joe and Anna Reynolds in 1924, and once featured potted palms and horsehair furniture.
It was purchased by New Jersey native Rymarz in 1985 to be closer to his children, who were going to school in Kentucky. The property has changed hands many times since 1836, said Rymarz.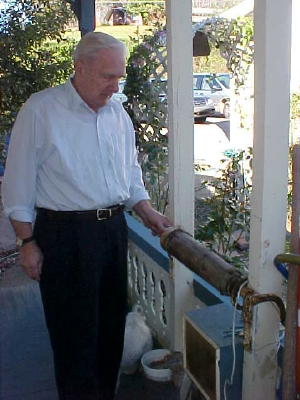 The water well and wheel which held
the rope for "drawing" may be original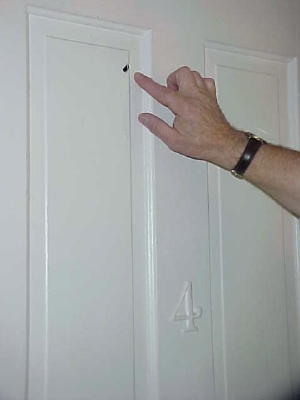 A bullet hole, a shot fired by a disgruntled suitor
during a wedding party (Notice numbers still on door)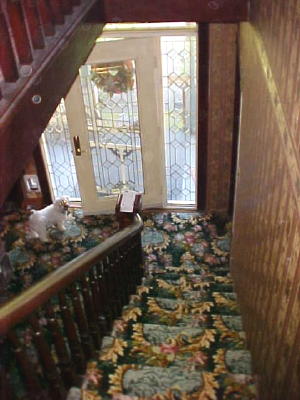 Hundreds of guests came through the hotel's doors
The ten hotel rooms still have their door numbers, the front parlor long used for weddings.
Rymarz said when he built a new front porch, he discovered the charred remains of the historic "burnt house" from pre-1850.