By Bob Weaver 2005

"The silent ball of light came from the south past our house and landed in a field above Sycamore," said Mt. Zion resident Mary Umstead, recalling the sighting of a strange object in the night sky during the 1950s on the ridge where she lives.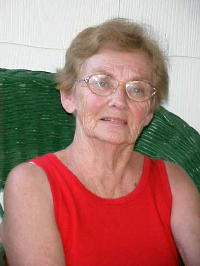 Umstead (pictured left) said she and her husband, the late Bob Umstead, were sitting on the back porch about 10 p.m. when the oblong-shaped object "streaked by in a split second," landing in a meadow a short distance away. There was no sound.
"Lots of people were seeing UFOs during the 50s," she said, recalling her close encounter.
"Bob started to go see it, around the ridge, but there was another bright light in the distance toward Gilmer County, and the object quickly lifted and streaked toward that light."
"It all happened so suddenly. It came and went very quickly," she said. "I was frightened."
Umstead says she has no reasonable explanation for the sighting. Although she continues to be a sky watcher, she has never seen anything quite like it since the event.
She often sleeps outside in her yard during the summer months and looks toward the stars. "I've seen some pretty strange things up there," she said.
Calhoun skies are great for star gazing and UFO watching, with out-of-state gazers coming to Calhoun Park to view the universe through telescopes, according to park board member Roger Jarvis.
"They come here because we don't have the glow from city lights," he said. "They say it is one of the best places in the country to sky watch."