By Bob Weaver 2004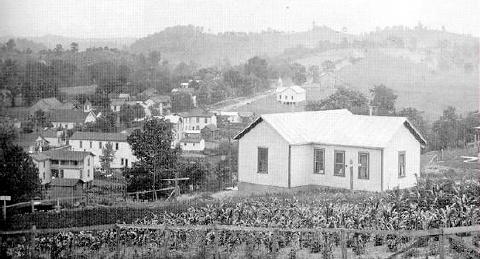 View of Smithville July 4, 1914
(Photo by H.H. Cox - Early Ritchie County Photographer)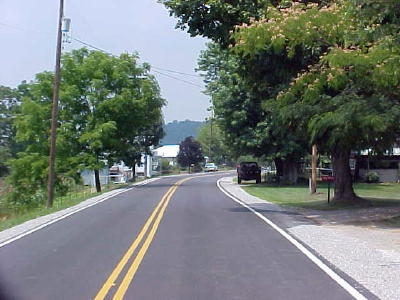 Route 47 - the Staunton Turnpike - wanders through the village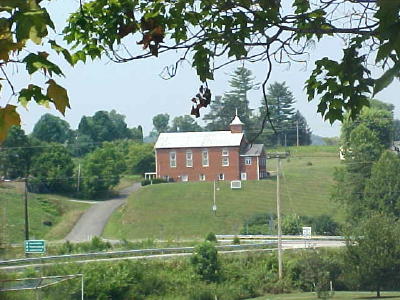 Smithville United Methodist Church sits on hillside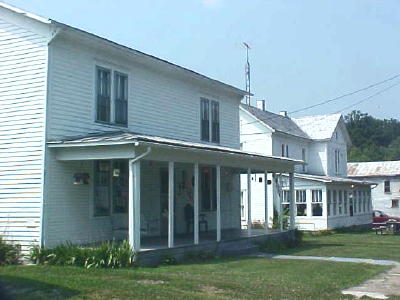 A few stately houses still in use on the main street
During much of the 20th Century, Smithville was a place to travel through for most Calhoun citizens, the main highway from Calhoun to Parkersburg, via Route 16 and 47.
It is situated along the historic Staunton Turnpike.
The town's Calhoun connection may best be made to many early families who moved back and forth from Ritchie to Calhoun's northern section.
Even through the 1950s it was known for its merchants, restaurants and well-kept homes, but it slowly faded as a center for trade.
Minnie Kendall Lowther wrote in 1910 that Smithville was among the oldest towns in Ritchie County, having seventy-five inhabitants and twenty dwellings.
In 1910 Smithville had two hotels, two churches - Baptist and Methodist Episcopal - one parsonage (M. E. church), a two-room school-building, two general stores, a hardware and undertaking establishment, a post office, a telephone exchange, a barber, two black-smith shops, a milliner and dressmaker-shop, two physicians, and two lodges, Modern Woodmen of America and Knights of Pythias.
The biggest news in 1910 was the expansion of the oil and gas industry, a recently completed pump station and the proposed extension of the Cairo and Little Kanawha Railroad to the village. The railroad never came.
"Seven daily mails come through the town," wrote Lowther.
The town did grow and prosper.
David W. Sleeth has been styled the founder in this village. He came here, and opened a hotel and a store about 1820, and later started a tannery.
Joseph Wilson obtained the charter for the town in 1842, which took its name from Barnes Smith, who owned the land where the town stands.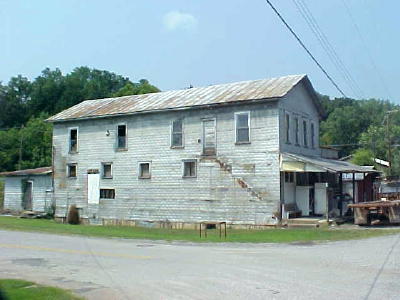 Abandoned G. G. Gregg General Store on main street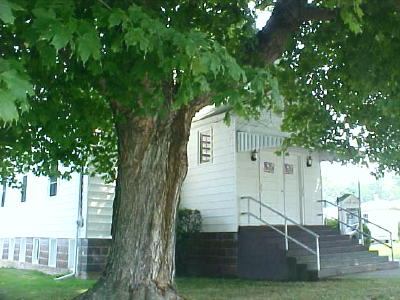 Smithville's Baptist Church still holds services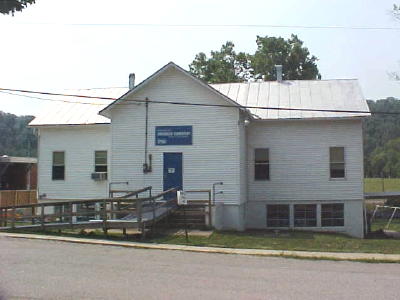 Old section of the village's elementary school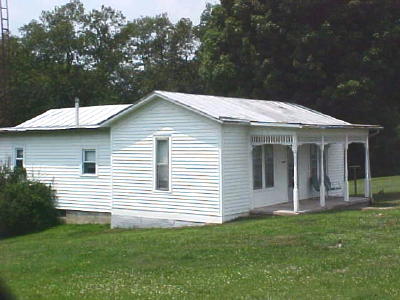 Most houses along Rt. 47 constructed in the 1930s
See SMITHVILLE'S AYERS ESTATE HAS 176 YEAR HISTORY - 17-Room House Restored For 21st Century